Space shuttle crew arrives in Florida for liftoff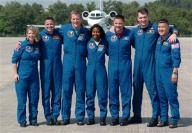 CAPE CANAVERAL, Florida (Reuters) - The crew of space shuttle Discovery arrived at Kennedy Space Center in Florida on Friday for the countdown ahead of next week's launch on a construction mission to the International Space Station.
Discovery, hauling a key connection node to the space station, is scheduled for liftoff at 11:38 a.m. EDT on Tuesday.
!ADVERRTISEMENT!
Before the 2003 Columbia disaster the launch of Discovery's cargo, a module called Harmony, would have completed the U.S. portion of the space station and opened the complex for expansion by European and Japanese-owned laboratories.
The latter function will still be served by Harmony's arrival at the station. But Europe and Japan will now have their labs launched prior to completion of the U.S. segment.
If Discovery can get off the launch pad with little or no delay, NASA plans to launch another shuttle on December 6 to put Europe's Columbus laboratory into position on the orbital outpost.
Half the engineering teams and safety experts that advise NASA's shuttle managers on technical issues suggested delaying Discovery's liftoff until later this year so questionable heat shield panels on the ship's wing could be replaced.
A postponement would bump launch of Columbus to 2008 as well as reduce NASA's allotted time to complete station assembly and retire the shuttle fleet by 2010, as mandated by presidential directive.
After a 12-hour debate on Tuesday, managers decided to press ahead with the launch while investigations are under way to determine the root cause of the problem, which involves a slight degradation of the silicon-carbide coating on three wing panels.
The panels keep the shuttle from melting as it flies through atmosphere for landing.
Columbia and its seven-member crew perished during atmospheric re-entry because of a hole in one of the ship's 44 wing panels.
Program managers insist they are not feeling pressured to meet schedules, which accident investigators said was a contributing factor to the Columbia disaster.
"I've been very adamant that we are not going to let schedule drive us," shuttle program manager Wayne Hale told reporters after Tuesday's marathon technical review.
Shuttle commander Pamela Melroy stands by her managers' decision.
"The crew is totally confident that the (wing panel heat shield) on Discovery is ready to protect us on our ride home," Melroy said at the landing strip shortly after arriving in Florida for final launch preparations.
"There's a time when you need to talk and then there is a time to go do it," Melroy said. "I'm happy to say we're really here and ready to go do it."