California cities asked to switch off lights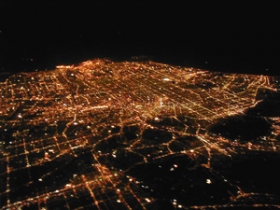 LOS ANGELES (Reuters) - Los Angeles, San Francisco and Santa Barbara residents are being urged to switch off their lights for one hour on Saturday in the first such organized bid in the United States to promote energy saving.
Much of the Golden Gate Bridge, Alcatraz, and Los Angeles International Airport will go dark between 8:00 p.m. and 9:00 p.m., apart from essential safety lighting. Lights in city buildings will be switched off and millions of residents in the three cities are being asked to follow suit.
The Lights Out campaign in California follows similar initiatives in Sydney, Australia; London, England; and Paris, France earlier this year. California organizers said they planned a nationwide U.S. event in March 2009.
The Los Angeles Department of Water and Power said that if all of its 1.4 million customers turned off their lights for an hour, enough energy could be saved to power 2,500 homes for an entire year.
Electricity companies are urging people to replace at least one of the lights they switch back on with an energy-saving fluorescent light bulb.
California this year proposed what would have been the first U.S. state ban on incandescent light bulbs. But the law was later shelved in favor of another that requires tight energy-efficient standards for new bulbs.
© Reuters2007All rights reserved