California wildfires force 250,000 to evacuate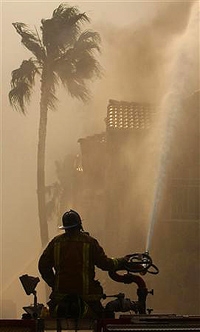 LOS ANGELES (Reuters) - Fast-moving wildfires raged across Southern California on Monday, forcing at least 250,000 people to flee their homes and destroying hundreds of buildings as desperate fire officials called for help from other states.
More than a dozen separate fires, driven by dry, gale-force Santa Ana winds, burned out of control across the drought-stricken southern half of the state, charring an estimated 200,000 acres, killing at least one person and injuring a number of others.
"It's a tragic time for California," said Gov. Arnold Schwarzenegger, who declared a state of emergency in seven California counties.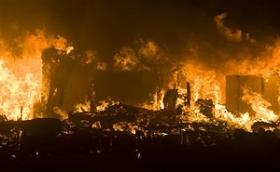 The fires also forced closures of major state highways, schools and businesses and sent plumes of thick black smoke drifting across much of the state, blotting out the sun.
The situation was perhaps most dire in San Diego County, at the southern end of the state, where a total of seven fires had burned an estimated 100,000 acres.
University of California San Diego Medical Center's burn center was placed on high alert, and local radio reports said 13 people had been treated there. One person was killed on Sunday by a fire near the Mexican border.
Two fires that merged north of the city of San Diego and scorched 14,000 acres prompted authorities to order 250,000 people evacuated from an area roughly 12 square miles
encompassing clusters of upscale residential communities, ranches and country clubs.
At least one hospital in the area also was closed due to the threat of the so-called Witch Fire, along with several nursing homes.
WINDS CURTAIL AIRCRAFT
Scores of homes were believed to have been lost, but the full extent of structural damage was not known because dense smoke and high winds limited aerial surveillance.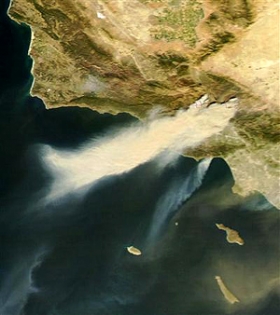 Gusts of up to 75 mph prevented firefighters from using fixed-wing aircraft to battle the blazes, said Fire Chief Bill Metcalf of the state fire protection service.
Authorities designated Qualcomm Stadium, where the San Diego Chargers football team plays, as an evacuation center, and about 5,000 people had turned up by 9 a.m. The nearby Del Mar Fairgrounds were opened to take in horses and other livestock displaced by the fires.
A blaze in the seaside celebrity enclave of Malibu that had blackened 2,400 acres was partially contained, having already destroyed 10 buildings including a landmark castle and a church.
But a new wildfire, possibly sparked by downed power lines, broke out near the mountain community of Lake Arrowhead. Water-dropping aircraft were dispatched to protect homes in areas fire trucks could not immediately reach.
"Our brave state, local and federal firefighters have been battling the blazes for the last 24 hours and they've done an extraordinary job," Schwarzenegger said.
Resources were stretched to the limit in battling the fires. Some 10,000 firefighters were on the fire lines and more were pouring in from Northern California. Fire officials said they had already asked Nevada for help and would be reaching out to Arizona as well.
Fire officials believe the Malibu fire might also have been sparked by power lines downed by the wind, while in Orange County, Fire Chief Chip Prather said a big fire that threatened the city of Irvine was arson.
The Santa Ana winds were forecast to gust through the mountain passes and canyons at up to 90 mph on Monday, while temperatures were set to reach over 90 degrees F during the day.
Southern California is in the midst of its driest year on record after rainfall just a fifth of average levels.
(Additional reporting by Dana Ford in Malibu, Steve Gorman in Los Angeles and Ned Randolph in San Diego)
© Reuters2007All rights reserved
addImpression("460316_Next Article");