Target Recalls Game Pieces: Cars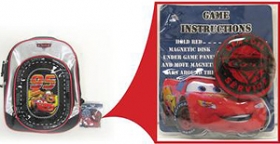 WASHINGTON (Reuters) - About 110,000 magnetic game pieces that accompanied "Cars" themed backpacks sold at Target Corp retail stores have been recalled because the toys can be swallowed by young children, the U.S. Consumer Product Safety Commission said on Tuesday.
The gray and red backpacks were sold with four magnetic game pieces that can fall out of their plastic enclosure, the safety agency said. The game pieces were made in China.
The agency said there have been three reports of a magnet that became loose but no injuries have been reported. Small children can swallow a magnet, and if more than one magnet is swallowed they can attract each other and cause intestinal perforation or blockage.
The vinyl backpack is not being recalled and is safe for children to use, the agency said.
A spokeswoman for Target was not immediately available for comment.
The backpacks and accompanying game pieces were sold for around $13 at Target stores nationwide from February through September of this year, it said.
As part of the recall, consumers can return the game pieces to obtain a free "Cars" wallet or equivalent product.
The Consumer Product Safety Commission posted a photograph of the recalled product on its Web site at: http://www.carsbackpackrecall.com/ .
(Reporting by Julie Vorman)