Fires create electricity 'island' in San Diego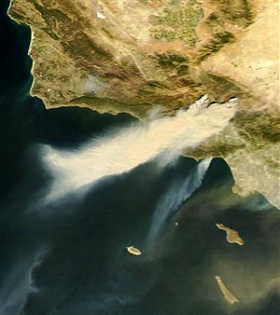 LOS ANGELES (Reuters) - California wildfires created an electricity "island" of San Diego County on Wednesday as one major power transmission link to the U.S. West grid was shut and the other flickering on and off, said San Diego Gas & Electric Co.
This makes the San Diego area susceptible to major blackouts unless customers conserve power, said Michael Niggli, chief operating officer of SDG&E.
San Diego Mayor Jerry Sanders implored residents to cut power use.
"You've got to conserve today. You have no choice," Sanders said.
About 20,000 homes and businesses were without power late Wednesday morning, down from 33,000 on Tuesday, SDG&E spokeswoman Rachel Laing said.
SDG&E gets about half its electricity from outside its service area for the 1.3 million homes and businesses it serves.
Four days of wildfires have caused the largest evacuation in California's history and burned about 2,200 homes, state officials said.
Never before has California faced as many shutdowns on the big power lines that are strung across the state and link it with the rest of the U.S. Western grid, said California Independent System Operator spokeswoman Stephanie McCorkle.
"This is unheard of, to lose this many transmission lines," said McCorkle. "But it is obviously a historic disaster we are dealing with."
SDG&E has two major links to the rest of the U.S. Western power grid. The Southwest Powerlink connects to Arizona and has been shut since Sunday. Niggli said the utility hoped Southwest Powerlink could reopen in the next 24 to 48 hours and that it could possibly be back Wednesday night.
The other transmission link, which connects to the Southern California Edison-owned system to the north near the San Onofre nuclear power plant, had one of three lines that go south into San Diego operating on Wednesday morning, Niggli said. This transmission link was shut entirely several times overnight, he added.
Every power plant within the SDG&E area is turned on, even those that are 50 years old and only run during the highest demand, Niggli said. SDG&E has about 3,000 megawatts available for Wednesday's peak hours in the afternoon -- right at its forecasted peak -- so if one of those power plants has a problem, outages are likely to occur.
SDG&E normally does not import power from Mexico, but on Wednesday was buying about 200 MW.
"The problem is that with winds shifting, the fires can change direction and threaten lines again," McCorkle said. "The situation is still very volatile today."
The power situation in most of the rest of the state appeared to be improving.
Southern California Edison, which serves three times as many power customers as SDG&E, had lowered power outages to about 2,000 customers and reported no problems on its transmission system, nor any of it in danger.
© Reuters2007All rights reserved