Australian country life riven by drought, isolation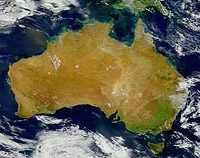 CARAGABAL, Australia (Reuters) - In drought-hit lands of eastern Australia, the population of Caragabal is just 38, every shop is closed, water is trucked in, and a synthetic lawn at a bowling club is the last hope of survival for a dying town.
The town dam, which can store two years' supply, dried up years ago with the return of drought. As crops die for hundreds of miles around, the town's fate also seems doomed.
Last remaining locals have started to speak of the patch of plastic bowling green in reverential tones.
"It's a vision for the future," said Andrew Trotter, who runs the town's last operating business, an unprofitable farm-supplies outlet he opened in February on an unsuccessful bet on rain.
"It will hold the community together here. I think it will attract people back," he said in his small temporary office.
Larry McDonald, manager of the store, chimes in: "Go and have a bloody game of bowls. At least it will take it (the drought) off your mind for a while."
Nearby, the pristine bowling green has been incongruously carved out of dusty scrubland, seemingly in the middle of nowhere, next to an equally deserted "sand green" golf course.
"It shows as a community we can get together and build something spectacular," squinted leading farmer Peter Toole.
Caragabal is the worst case of a dying town in this part of central New South Wales state, 310 miles west of Sydney, but there are many more.
Another 10 people left Caragabal in the last 6 months alone, further shrinking the town from 500 or more in the 1950s.
Two general stores, a saddlery, cafes, a bakery, a butcher, a telephonist service, garages and a Westpac Bank branch have all closed in recent decades, leaving only one tiny pub, a small post office and Trotter's new PFC supplies outlet.
The pub has a "closed" sign scrawled on a blackboard at its front door. Nobody knows where the publican has gone.
Trotter complains that he opened his supplies centre in February because of forecasts by the weather bureau that last year's drought would be replaced by La Nina rains in 2007.
"They're clueless," he said bitterly of the bureau.
It sums up abject frustration felt by people being squeezed out, often after generations of farming, by extreme weather in this hardest-hit area in Australia's worst modern drought.
Barmedman is a bigger town 75 kms (47 miles) southwest Caragabal, but it too is shrinking, with rows of empty shops and deserted streets.
Mayor David Bolte says that apart from Caragabal, four towns have shrunk to almost nothing in his Bland Shire, typically with 300 people or less, one or two pubs, a small school and a garage.
The supermarket closed down in nearby Ungarie last year.
"It just keeps chipping away," Bolte said. "I don't think they will progress," he said when asked if the towns would die.
SOCIAL FABRIC TEARS
The number of farms in Australia has declined by 25 percent to near 130,000 over the past 20 years, as farmers leave the land and technology and mechanization increases the size of farms.
Severe drought is adding to a hollowing of society underway for decades in rural Australia, first triggered by falling commodity prices and farm incomes and by the lure of city life for young people.
Average farm cash income dropped sharply by almost 70 percent to just A$26,600 ($23,000) in the year to June 30 2007, because of drought.
"If the young ones start moving out in droves the older ones will move out too," said Larry McDonald.
A high number of suicides is the hidden tragedy of the tearing of rural social fabric.
"It's an issue in a lot of areas," said Mayor Bolte, who also said it had not so far had a dramatic impact in his shire of 8,500 sq km (3,280 sq mile) with its population of 6,500.
Australia already has a high suicide rate of five men and one woman a day in cities, in its population of 20 million. Rural suicide is already greater than in cities and likely to increase.
Drought is contributing to the high rate of suicides in the bush, John Macdonald, Professor of Primary Health Care at the University of Western Sydney and a member of Suicide Prevention Australia, told Reuters.
"The sheer economic and social hardship that comes about from people struggling to make ends meet and then men trying to support their families ... these guys are doing it hard, it's not just that they are stoic and don't talk to people," he said.
Farmer Angus McLaren says a worrying side of rural suicide is that it is hidden, occurring more among those who stay at home.
Margaret Bolte, wife of the Mayor, is puzzled by recent suicide attempts by two young men in Young, 150 kms (93 miles) east. Drought there is not that bad. Possibly farmers out west are more toughened by dealing with hardship, she said.
Larry McDonald knows one man who last week drove into a tree.
"Some think its the only way to help their family," he said.
Farmers laugh when asked if they will accept a recent offer by Prime Minister John Howard of A$150,000 to leave the land. Many may be forced to take jobs next year and will only return to farming when it starts to rain, said Mayor Bolte.
The local rural council is doing whatever it can to support declining communities. But Mayor Bolte says keeping the communities going is about as difficult as keeping local dirt roads maintained in the swirling winds of the drought.
"It's pointless putting gravel out in a dust bowl, it all just blows away," he said. "You're only moving one pile of dust to another pile somewhere else."
($1=A$1.13)
© Reuters2007All rights reserved