Tropical Storm Noel drenches Cuba, Bahamas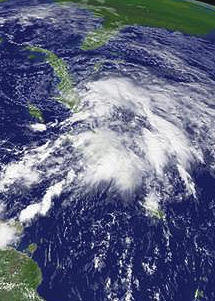 HAVANA (Reuters) - Tropical Storm Noel weakened as it moved across northeastern Cuba on Tuesday and the storm that killed more than a dozen people in the Dominican Republic was not expected to become a hurricane as it neared the Bahamas.
Torrential rains drenched eastern Cuba, where double the average rainfall in October had reservoirs already filled to the brim and authorities worried about flooding. There were no immediate reports of injuries or damages.
"There's lots of rain but no really strong winds like a hurricane," said Chantal Rivas, owner of a bed and breakfast in the port of Gibara, 470 miles east of Havana.
The storm knocked down trees on the coast of neighboring Camaguey, a beach resort hotel receptionist said, as it swept along Cuba's north coast. Forecasters warned of storm surges.
Cuba evacuated about 10,000 people from inland areas threatened by floods and mudslides or rivers that could burst their banks. The evacuees included 3,000 students picking coffee in the hills of Santiago province. Tourists at coastal resorts were not affected.
By 11 a.m. EDT (1500 GMT), the center of the storm was 40 miles east-southeast of Camaguey, Cuba, and its maximum sustained winds had dropped to 45 mph (75 kph), the U.S. National Hurricane Center said.
Computer models showed Noel heading northwest toward Florida but making a sharp turn at some point to the northeast and swirling out over the Bahamas into the Atlantic.
The 14th named storm of the 2007 Atlantic storm season was not expected to strengthen significantly because of unfavorable wind conditions in the atmosphere. The Miami-based center said Noel would stay over land in Cuba longer than initially expected, reducing the chances it could briefly become a minimal hurricane on its closest approach to southeast Florida.
Noel killed more than a dozen people on Monday after dumping torrential rain on the Dominican Republic and the treeless hillsides of neighboring Haiti, with which it shares the island of Hispaniola.
The toll, which included a woman who was carried away by a river in Haiti, was expected to climb because of reports of several other deaths and more than a dozen people missing.
© Reuters2007All rights reserved
addImpression("460316_Next Article");