Bush vetoes popular water projects bill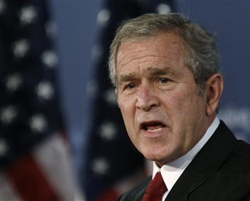 WASHINGTON (Reuters) - President George W. Bush on Friday vetoed a bill that would have authorized hundreds of water projects across the United States, escalating a battle with congressional Democrats over domestic spending.
Bush had long threatened to veto the $23 billion bill, targeted for projects including coastal restoration in Louisiana after Hurricane Katrina and improving the Florida Everglades, saying it was too expensive because it had unneeded projects supported by individual lawmakers.
Democrats said they would try to override the president's veto as early as next week. The measure passed both houses of Congress with more than the two thirds majorities needed to override a presidential veto.
White House Press Secretary Dana Perino called the measure "fiscally irresponsible" and said Bush cast the fifth veto of his presidency before leaving for a trip to South Carolina.
The Senate passed the bill, 81-12, in September after the House of Representatives approved it by 381-40 a month earlier. Overall, the $23 billion legislation authorizes 900 projects and studies.
House Majority Leader Steny Hoyer from Maryland said his chamber would hold a vote on Tuesday to attempt to override the president's veto. He noted the legislation won significant bipartisan support when it passed the House and Senate with "large veto-proof majorities."
A spokesman for Majority Leader Harry Reid, a Nevada Democrat, said the Senate could revisit the water bill as early as Wednesday.
Republican and Democratic lawmakers said the veto showed Bush was out of touch with the American people and vowed to move forward with the bill.
"When we override this irresponsible veto, perhaps the president will finally recognize that Congress is an equal branch of government and reconsider his many other reckless veto threats," said Reid.
COST VERSUS NEED
Bush and Democrats, at loggerheads over his Iraq war strategy, have also been sparring over other spending issues, including a proposal by Democrats to expand a popular children's health program and a series of annual domestic spending bills supported by Congress that exceed a funding limit Bush has suggested.
Perino said the water projects in the bill fall outside the scope of the Army Corps of Engineers' mission and said many of them "lack any sense of merit."
"It's by far the costliest U.S. Army Corps of Engineers authorization ever sent to a president's desk," she said.
Sen. Russ Feingold, a Wisconsin Democrat, praised the president for vetoing the bill.
This "is a welcome opportunity for Congress to modify the flawed, bloated bill. Instead of trying to override the veto, Congress should take this opportunity to fix the bill," said Feingold.
The legislation also would include new locks to speed up freight traffic on the Mississippi River. Farm and business groups have campaigned for years to expand navigational capacity on the upper Mississippi, where many of the locks and dams date from the Depression era.
The Chamber of Commerce warned that without better waterways, communities run a greater risk of flooding and farmers would have a harder time facing foreign competition.
"We are facing a water infrastructure crisis and our national investment in water resources has not kept pace with our level of economic expansion," said Republican Sen. George Voinovich of Ohio.
(Additional reporting by Caren Bohan in Washington and Matt Spetalnick in Columbia, South Carolina)
© Reuters2007All rights reserved