France casts doubts on timing of GMO evaluation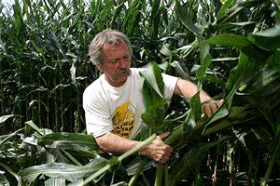 PARIS (Reuters) - It may take longer than expected to assess pest-resistant genetically modified (GMO) crops for use in France, the agriculture minister said in remarks published on Monday.
"I cannot be absolutely sure how long it will take to carry out the scientific evaluation," Michel Barnier told the farming publication Agra Press.
"I cannot say today that everything will have been completed in February," he added.
Last month, President Nicolas Sarkozy said he would suspend the planting of pest-resistant GMO crops until an assessment on their use had been carried out later this year or in early 2008 and a new GMO law had been passed in France by the spring.
Barnier's comments drew a sharp response from the main maize producers' group AGPM, worried the appraisal will not be completed before the next sowing season.
"We want to know the rules of the game and to clarify the calendar so maize sowings can proceed as expected in April 2008," AGPM head Christophe Terrain told Reuters.
Jacques Pasquier, general secretary of the Confederation Paysanne, one of the main farm unions, said it could take up to 18 months to carry out a serious evaluation.
"It is highly probable that there will be no GMO plantings in France next year," he told Reuters by telephone.
Sarkozy's actions could have an impact on the future use of the sole GMO crop currently grown in France and the rest of the European Union -- a maize variety reliant on the MON 810 technology developed by U.S. biotech giant Monsanto.
French farmers who have used maize seeds incorporating MON 810 technology have cited greater protection against certain insects.
If France is able to offer scientific proof that the MON 810 is harmful to either the environment or humans or if the assessment drags on beyond March or April, farmers may have to revert to using conventional non-GMO maize in 2008.
Only 22,000 hectares, or around 1.5 percent, of France's cultivated land has been sown with GMO maize this year.
Several European Union countries have dug in their heels on use of MON 810 maize, including Hungary and Germany.
Unlike the United States, where GMO crops are widely used, resistance is running high, especially among ordinary French consumers who fear the potential impact on the nation's biodiversity and human health.
Analysts say France will have to provide solid evidence that GMO crops like the MON-810 put either the environment or humans at risk to be able to pursue with its suspension.
© Reuters2007All rights reserved