Maldives says Warming Threatening Islands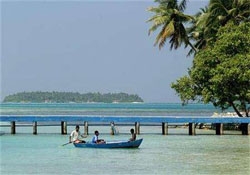 LISBON - The President of the Maldives on Wednesday called for urgent global action against climate change, saying rising sea levels are threatening the survival of his country's low-lying islands.
Maumoon Abdul Gayoom said 80 of his country's 1,200 islands had experienced tidal surges earlier this year, most of which are no more than one meter above sea level.
"Never in our documented history have so many islands been affected to such an extent. These surges were a grim reminder of the devastating tsunami of 2004 and a clear warning of future disasters," Gayoom said at a conference on development and climate change in Lisbon.
The U.N. Intergovernmental Panel on Climate Change estimates sea levels to rise between 18-59 centimeters by 2100. Since 80 percent of the Maldives' 1,200 islands are about 1 meter above sea level they could be partly submerged by the end of the century.
"Unless climate change is addressed quickly and effectively your fate could be similar," he said.
According to the United Nations, about 50 million people will become environmental refugees by the end of this decade. The U.N. estimates about 40 percent of the world's population lives near the coast and most of the world's largest cities are on the coast or estuaries.
European Commission President Jose Manuel Barroso said failure to meet targets for reductions in emissions by 2050 could make the consequences of climate change "irreversible and uncontrollable."
"To be more specific, it will directly hinder our efforts to reduce poverty and hunger in the world," Barroso said.
The European Union has taken the lead in the fight against global warming by setting up a landmark EU emissions trading scheme in 2005 which aims to reduce emissions by putting a price on carbon that businesses use.
The three-day conference, known as European Development Days, comes ahead of what is set to be Europe's first summit with Africa in seven years, in December.
Barroso said the summit will aim to establish an EU-Africa energy partnership, which will include renewable energy. (Reporting by Henrique Almeida; Editing by Ibon Villelabeitia)