Beijing ups Surveillance of Water Supply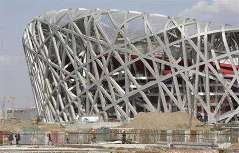 BEIJING - Beijing, host of next year's summer Olympics, has pledged to protect its water supply and add state-of-the-art surveillance systems around Games sites, state media said on Thursday, quoting officials.
In 2001, when it won the right to host the Olympics, Beijing promised that it would be treating 90 percent of the 2.78 million cubic metres of waste water produced every day in the city and recycling half of the resultant effluent.
"Since the late 1990s, Beijing has suffered nine years of successive drought, entering into an obvious state of having scarce water," Jiao Zhizhong, head of the Water Affairs Bureau, was quoted as saying.
The city had set a plan in motion to install 3,500 "electronic eyes" by the end of the year, the Beijing News quoted him as saying.
"The water supply network is the lifeline of the city," said Hu Bo, director of the bureau's Water Management Department.
"The surveillance system will allow us to discover and deal with problems more quickly."
(Reporting by Beijing newsroom; editing by Nick Macfie and Roger Crabb)