Russian PM takes charge of oil spill clean-up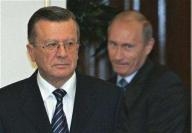 TEMRYUK, Russia (Reuters) - Russian Prime Minister Viktor Zubkov flew to the Black Sea coast on Tuesday to oversee efforts to clean up an oil slick that coated beaches with a thick black sludge and left birds poisoned and blinded.
Officials said 2,000 tonnes of heavy fuel oil had now escaped from a tanker which broke up in a once-in-a-century storm on Sunday that also swamped other ships and drowned at least three seamen.
Columns of earth-movers and dump trucks were sent to the affected stretches of beach to clean up the oil, but plans to use special vessels to scoop up oil from the water were put on hold because of a new storm warning.
The weather also grounded helicopters searching for five seaman missing since Sunday's storm at the northern mouth of the Black Sea, which also sank four freighters and left other ships crippled. The bodies of three seaman have been recovered.
Officials had previously said 1,300 tonnes of fuel oil had leaked from the Volgoneft-139, a small tanker which broke into pieces during the storm.
Oleg Mitvol, deputy head of the state environmental agency Rosprirodnadzor, said the figure had been revised to 2,000 tonnes.
"Our main ecological problem is from the fuel oil spill," he told reporters in the port of Kavkaz, where the clean-up operation has set up its headquarters.
"We have two ecological problems today -- the fuel oil in the water ... and also heavy pollution of the (shore)," he said.
The worst devastation from the storm was in the narrow Kerch Straits that divide the Azov Sea from the Black Sea.
Mitvol said he wanted to build barriers and dams across parts of the Kerch Straits to prevent the oil spreading.
BIRDS BLINDED
Alexander Tkachyov, governor of the Black Sea Krasnodar region, on Monday said the damage caused by the spill amounted to an ecological catastrophe.
Dead and dying seabirds could be seen all along the coast. Their feathers covered in oil, many were unable to move and those that could blundered blindly across roads and into the path of traffic.
There were also concerns that another tanker damaged in the storm could leak oil, and about possible leaks from a freighter carrying sulphur. The spill was near Russia's border with Ukraine.
Russian meteorologists said winds during Sunday's storm had reached 30 meters (100 feet) per second, speeds that are usually only recorded once in a century.
In the settlement of Temryuk, local people said they had never seen such high winds. The storm had brought down a 20-metre (65-foot) tall pine tree in the central square.
Zubkov was to meet his Ukrainian counterpart Viktor Yanukovich on the Black Sea coast later on Tuesday, and was then to travel to the clean-up headquarters in Kavkaz.
Police barred foreign reporters from going to Kavkaz, saying it was in a sensitive border zone.