Wanted: caring home for rare Andean bear cub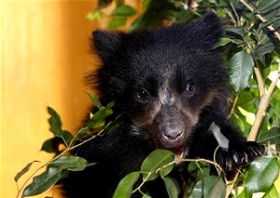 LA PAZ (Reuters Life!) - A rare Andean bear cub with a taste for yogurt has found a temporary home with a Bolivian family as the animal rights group that rescued him struggles to find him a new home.
The two-month old bear named Koda, after the fictional cub in Disney's animated film "Brother Bear", belongs to a species known as the spectacled bear because the marks on its face resemble eyeglasses.
Bolivian animal rights group Animales S.O.S. found Koda in September when a man tried to sell him at a street market in western Bolivia for $200.
Koda "was suffering from diarrhea when we found him and we thought he was going to die," said Susan Del Carpio, the president of the group.
For weeks she fed him yogurt, papaya and pineapple. Now he is an active cub who likes jumping on people's backs, climbing on furniture and yelping when his foster family puts him in the bathtub.
While S.O.S. tries to find a permanent home Koda has been temporarily adopted by Aniko Bodor De Pareja, who occasionally works for S.O.S. and lives in a three-room apartment in La Paz.
Her teenage children play with Koda, but they are aware that keeping him as a pet is not an option, particularly because an adult bear can weigh as much as 400 pounds (181 kilos).
"He needs constant attention ... his favorite hobby is to destroy plants and climb up the furniture. He never gets tired," said 17-year-old Gyula.
Since Koda arrived the family's two cats and ten kittens have been confined to the dining room. He roams freely around most of the apartment during the day and at night rests in a custom-made cage.
S.O.S., which has rescued parrots, turtles, toucans, snakes and even a jaguar from animal traders, cannot release Koda into the wild because he would die, according to Del Carpio.
Spectacled bears live in mountainous regions in several South American countries, including Bolivia, Ecuador and Peru. The World Conservation Union (IUCN), which lists the species as vulnerable in its Red List of Threatened Animals, said information about their numbers is hard to come by.
The animal rights group is pressing local zoo officials to take the cub. But the officials said there is no room for him and they lacks the funds to build a separate enclosure to house him.
The main threat to Koda's future in the wild is loss of habitat, poaching and illegal animal trade.
"He wouldn't know how to survive, there are no yogurt trees in the jungle," Bodor De Pareja joked.
© Reuters2007All rights reserved