Honda: Solar Production Begins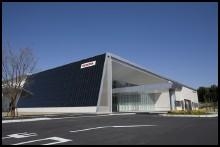 Though Honda has been mass producing solar cells since October, and has begun sales of them, the opening of Honda Soltec's production facility in Kumamoto, Japan makes it official: Honda's in the solar business.
As you'd expect from the cutting edge car company, the product is state of the art. Honda is using thin-film, copper, indium, gallium and selenium (CIGS) cell technology - a technology still trying to gain footing against tried and true silicon solar. But Honda says that overall, in the big picture, grand scheme of things, CIGS is greener than silicon solar. The company says CIGS use 50 percent less energy to manufacture, start to finish, than conventional silicon crystal solar cells.
The new facility will reach full speed of 27.5 megawatts annual capacity by next spring. Honda says that's enough to power about 9000 Japanese homes. Already the Soltec subsidiary has 80 distributor locations in Japan and will have 200 there by the end of 2008. In conjunction with the commemoration of the new plant Honda will begin exports of the solar products.
The plant will employ 150.
Honda now says it's in the energy creation business. Aside from its well-respected gasoline generators, the company also makes home cogeneration (micro combined heat and power) units on sale in Japan and the US (the US variation of it being developed and offered by Climate Energy of Massachusetts); is developing new technology to produce ethanol from cellulose; and continues to develop and sell fuel cell vehicles (10 of which have been sold so far in the US.)
Initially there will be two Honda Soltec products, 125-watt and 115-watt modules. Interestingly enough, both are the same size (1417 x 791 x 37 mm)( about 56 x 31 x 1.5 inches). Prices are factory set at 57,500 Yen ($511) and 49,800 ($442) respectively. Prices may vary of course, taxes additional.
The Soltec CIGS modules are solid black in color which will make them easy to integrate into building designs. Honda has done so with the Kumamoto facility.
Links:
Honda Global
http://world.honda.com
Honda Soltec (Japanese)
http://www.honda.co.jp/soltec
Climate Energy
http://www.climate-energy.com