Hard-to-swallow Hooks Save Turtles in Latin America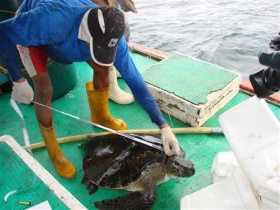 PUNTARENAS, Costa Rica (Reuters) - Endangered sea turtles accidentally caught by fishermen off Latin American coasts usually die but innovative hooks that are too big to swallow are increasingly saving the reptiles' lives.
The use of circular-shaped hooks lets fishing crews more easily remove hooks from the mouths of loggerhead, leatherback and other turtles caught up in long lines meant to catch fish and prevents them from bleeding to death.
Four years ago, the World Wildlife Fund conservation group, or WWF, began encouraging long-line fishermen from Ecuador to Mexico to replace traditional J-shaped hooks, which fish and turtles tend to swallow, with various sizes of circular hooks.
Unlike the J-shaped hook that has its point parallel to the shaft, the circular hook points toward the shaft and is also wider, making it more likely that it will lodge in the lip rather than the throat or stomach, which is fatal, the WWF says.
The WWF believes close to 250,000 endangered turtles, as well as thousands of sea birds, sharks and sea mammals, are accidentally caught every year by long-line fishermen, who troll the ocean with lines strung with thousands of hooks.
Data so far suggests that using circle hooks saves 70 percent to 90 percent of the turtles caught by long-liners and has little effect on catch rates, Moises Mug, a senior official at the WWF, told Reuters during a demonstration of the hook off Costa Rica's Pacific coast earlier this month.
The WWF has convinced 300 fishing boats in Latin America to use the circle hook and allow WWF observers on board to monitor and gather data. The fund hopes to sign up 2,000 boats.
"We want to create a critical mass with the program so that there is eventually an overall push to adopt the practice," Mug said.
During the demonstration of the hooks, fishermen aboard the 46-foot (14-meter) Cola Amarilla ship, 16 miles off Costa Rica's coast, reeled in a salad bowl-sized Ridley sea turtle, the creature's flippers flapping and very much alive.
Accompanied by WWF officials, the fisherman quickly pried the circular hook from the turtle's mouth, then weighed and measured the animal before releasing it in the ocean.
Jose Moraga, the captain of the Cola Amarilla, said the new hooks are as effective as normal tackle. "It's a good experience because you wouldn't expect to find a better hook," said Moraga.
The WWF also has called for wider measures around the world to prevent animals from getting caught up in fishing lines and tough standards for reporting non-fish catches.
While some conservation groups are calling for the prohibition of long-lining, Mug said cooperation with fishermen would likely be more effective, given the difficulty of enforcing a ban.
(Editing by Noel Randewich and Bill Trott)