Greenpeace says shuts down Australia power station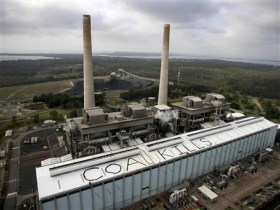 BRISBANE (Reuters) - Greenpeace climate activists said on Thursday they had shut down a coal-fired power station north of Sydney to protest against Australian climate change policies. A team of 15 activists from the environment group entered the Munmorah power station, about 110 kilometers north of Sydney, during the early morning, hanging banners reading "Climate change starts here" and "Coal kills."
"Climate activists have taken non-violent direct action to shut down the power station ... by locking onto the conveyor system and preventing coal from feeding the plant," Greenpeace Head of Campaigns Steve Campbell said in a statement.
The plant's operator, Delta Electricity, said a small group had entered the generator site and police had taken control of the situation.
"Operations at the generator are unaffected," Delta said in a statement, although a company spokeswoman told Australian Associated Press that workers had been evacuated for their own safety.
New South Wales state police said four people had been arrested, but more arrests were likely.
Australia is the world's biggest coal exporter and conservative Prime Minister John Howard, behind in polls ahead of a November 24 parliamentary election, has refused to sign the Kyoto climate pact, arguing it would harm Australia's economy.
Opposition Labor leader Kevin Rudd on Wednesday promised to sign Kyoto and put more money into renewable energy research, but has pledged continued support for the coal industry and innovations to make coal-fired power cleaner.
Campbell said both Howard and Rudd's policies were "dismal" and would not change Australia's position as the world's largest per head greenhouse gas emitter.
Greenpeace spokeswoman Louise Clifton said the Munmorah power station was small, but produced about 1.5 million metric tons of greenhouse gas per year.
"It's not a huge power station, but it's an old one and one of the dirtiest, so it could easily be taken off line," Clifton said.
(Reporting by Rob Taylor and James Grubel)