China Says Key Pollution Levels Nudge Down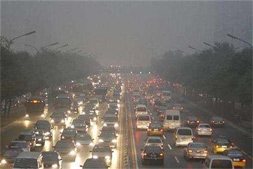 BEIJING (Reuters) - Two key measures of pollution in China have fallen slightly in what the country's environmental regulator claimed was a victory for its clean-up procedures, state media reported on Thursday.
Emissions of sulphur dioxide, which belches from smokestacks and causes acid rain, fell by 1.81 percent in the first nine months of 2007 compared with the same period last year, the China Daily reported.
COD, or chemical oxygen demand, a measure of water pollution, dropped by 0.28 percent, the paper said.
Many Chinese cities are enveloped in choking smog, including 2008 Olympic host Beijing. The level of air pollution in the capital and its possible effects on athletes' health has been one of the biggest issues facing organizers of next year's Games.
A recent report by the UN Environment Programme (UNEP) highlighted concerns about air quality in the city although Games organizers have said conditions will be improved by the time of the Olympics next August.
In announcing the latest figures, the head of the State Environmental Protection Administration (SEPA), Zhou Shengxian, said they proved that a campaign to clean up polluters was beginning to show an effect.
"These absolutely aren't just games with numbers," he said, according to the Xinhua news agency.
Sulphur dioxide and COD are primitive indicators of overall environmental health, and do not reflect the many other chemicals that have turned China's pollution problem into a domestic political headache and international embarrassment.
Zhou said the latest figures reflected the government's determination to improve the environment.
By the end of September, SEPA had investigated more than 10,000 cases of environmental law violations, and 250 small coal-fired power generation units were shut, he said.
China has promised to cut the two key pollution measures by 10 percent between 2006 and 2010, but last year the country failed to meet the annual target. Zhou said that reaching that target would be tough.
Beijing does not issue statistics for carbon dioxide, the "greenhouse gas" behind global warming.
Carbon dioxide emissions from China's power plants will rise by some 60 percent in the next decade, according to a new global database released in Washington on Wednesday.
(Reporting by Chris Buckley; Editing by Ken Wills and Jeremy Laurence)