Over 35 million Americans Faced Hunger in 2006: USDA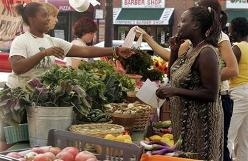 By Christopher Doering
WASHINGTON (Reuters) - The U.S. government said the number of Americans who went hungry in 2006 was held in check at 35 million people from the prior year, but food advocacy groups said on Wednesday more needs to be done.
The U.S. Agriculture Department said a total of 12.65 million households were "food insecure," or 10.9 percent of U.S. homes, up from 12.59 million a year ago.
The USDA defines food insecurity - its metric for measuring hunger - as having difficulty acquiring enough food for the household throughout the year.
"It looks very stable from this year to last year," said Mark Nord, who co-authored the annual report for USDA's Economic Research Service.
Overall, 35.52 million people, including 12.63 million children, went hungry compared with 35.13 million in 2005. The survey was conducted in December 2006 and represented 294 million people, an increase of 2.5 million from 2005.
Food advocacy groups said the figures showed the United States was not doing enough to combat hunger, and feared conditions could worsen.
"As costs for food, energy, and housing continue to rise and wages stagnate or decline, households are finding themselves increasingly strapped," said Jim Weill, president of the Food Research and Action Center. "This may mean even worse numbers in 2007."
Very low food security was most prevalent in households with children headed by a single woman -- 10.3 percent in 2006, USDA said.
Food stamps and other public nutrition programs account for about 60 percent of the USDA's spending. Funding for the department's 15 nutrition assistance programs has risen 70 percent since 2001 to $59 billion in 2006, and 20 percent of all Americans are impacted by the programs each year.
Some 27 million people are enrolled in the food stamp program alone, which helps poor Americans buy food. USDA has estimated 65 percent of eligible people participate in the program, up from 54 percent in 2001.
"We have more work to do," said Kate Houston, USDA's deputy undersecretary for Food, Nutrition and Consumer Services. "We can't say that everybody that is eligible for our programs is participating."
(Reporting by Christopher Doering; editing by Jim Marshall)