Chinese pollution plan includes tougher fines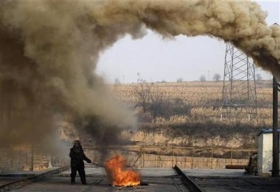 By Chris Buckley
BEIJING (Reuters) - China's water and air are straining to cope with the country's industrial take-off, the government said on Monday, vowing steps to make polluters pay more for environmental damage.
The cabinet gave a stark picture of ecological damage when belatedly releasing the country's plan for environmental protection from 2006 to 2010.
"The conflict between our country's economic and social development and environment and resources grows starker by the day," said the plan, released on the government's Web site (www.gov.cn). "Environmental protection faces severe challenges."
The five-year plan urges officials to abandon a fixation on economic growth and turn to cutting pollution that the document says threatens citizens' health and long-term prosperity.
At the end of the previous five-year plan that ended in 2005, water in 26 percent of "key" lakes and rivers targeted for clean-up was so contaminated that it was classified as unfit even to touch or to irrigate crops.
Emissions of sulphur dioxide, the industrial pollutant that causes acid rain, grew by almost a third, despite a goal set in 2000 to cut emissions by 10 percent.
The new plan brings together a set of policy promises that have mostly been announced before: cutting two key pollution measures by 10 percent between 2006 and 2010; healing stretches of spoiled lakes and rivers; and recycling much more of the waste and domestic run-off from growing towns and cities.
Officials are urged to do more to rein in greenhouse gas emissions by embracing energy-saving technology and policies and growing more forests to absorb rising carbon dioxide levels that scientists say are dangerously heating the atmosphere.
Beijing has set similar goals before, only to be overwhelmed by the break-neck economic growth that many local officials see as vital to more jobs and revenue.
But the new plan spells out that the government wants to tie environmental goals to policy measures that may hit polluters through tougher fines and revenue restrictions.
"Clean-ups of industrial pollution must follow the principle that the polluter bears responsibility," the plan states, also urging tax reforms to discourage waste and pollution.
"Give scope to the role of price levers and establish a pollution emissions pricing and fees mechanism that reflects the costs of cleaning up pollution," it says.
Trading in emissions quotas for sulphur dioxide may also be introduced in areas where "feasible."
(Editing by Nick Macfie and Rosalind Russell)