German carmakers lag France, Italy in CO2 cuts: group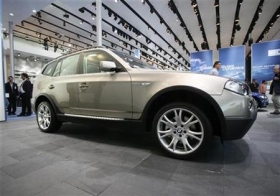 By Jeff Mason
STRASBOURG, France (Reuters) - Average carbon dioxide (CO2) emissions from new cars made by German manufacturers rose in 2006, while French and Italian producers cut pollution from their vehicles, data showed on Thursday.
Brussels-based environmental group Transport & Environment (T&E) said average emissions from new German vehicles jumped 0.6 percent last year because Germany was producing heavier cars, while French and Italian manufacturers cut emissions from their new cars by 1.6 percent on average.
The figures illustrate the growing divergence between makers of smaller and larger cars in Europe as the European Commission prepares legislation, due in December, that will require average CO2 emissions from new cars to come in at 120 grams per km by 2012.
Carmakers would be required to achieve 130 g/km through engine technology alone, while use of biofuels and other measures would help achieve the overall 120 g/km target.
The draft laws are part of the European Union's drive to fight global warming and reduce emissions of CO2 and other greenhouse gases blamed for heating the earth.
T&E, citing EU data it had obtained, said luxury carmaker BMW AG went against the German trend, reducing average emissions by 2.5 percent last year.
But the former DaimlerChrysler, now called Daimler, saw emissions go up 2.8 percent and Volkswagen's emissions rose 0.9 percent, it said, offsetting the effect of BMW's reductions.
Japanese carmakers cut average emissions by 2.8 percent last year.
All of the major car companies were far away from the 2012 goal, though some were making better progress than others.
PSA Peugeot Citroen had average emissions of 142 g/km, Fiat SpA had 144 g/km, and Renault SA had 147 g/km - the cleanest cars on average.
Toyota Motor Corp's new cars had average emissions of 153 g/km, followed by Honda Motor Co with 154 g/km.
DaimlerChrysler's emissions came in at 188 g/km, while BMW had 184 g/km and Volkswagen 166 g/km.
"Germany's fine automotive engineers should be focusing on making cars leaner and more fuel efficient," said Jos Dings, director of T&E, in a statement.
"Sadly, based on recent progress, they mostly seem to be intent on building ever heavier, larger and more gas guzzling cars that simply don't belong in the 21st century."
A spokeswoman for industry lobby ACEA said all of the car makers were working hard to reduce their emissions and reiterated that many sectors had to help in meeting EU goals to fight global warming.
"All manufacturers are making tremendous efforts in reducing CO2 emissions," she said, adding that the industry's efforts had led to a 13 percent reduction on average since 1995.
(editing by Paul Taylor and David Cowell)