Democrats to offer Bush budget compromise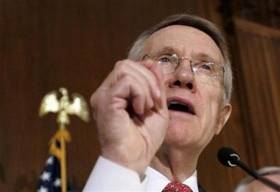 By Richard Cowan
WASHINGTON (Reuters) - Trying to head off the "fiscal showdown" that President George W. Bush predicted, Democrats in Congress will abandon about half of the additional domestic spending they have been seeking, Senate Majority Leader Harry Reid said on Thursday.
"We'll ... split the $22 billion difference" between Bush's spending request and the budget Democrats are pushing, Reid told reporters.
A spokesman for Bush's Office of Management and Budget did not directly address the Democrats' proposal. Nor did he immediately reject it.
"The president has been clear that Congress should adhere to the budgetary process and pass individual funding bills at reasonable and responsible spending levels," said the spokesman, Sean Kevelighan.
On October 15, Bush, a Republican, said in a speech to business people in Arkansas, "You're fixing to see what they call a fiscal showdown in Washington."
That already has begun to play out, as Bush has vetoed a massive, $600 billion fiscal 2008 bill saying it would have overspent by about $10 billion on domestic health, education and labor programs, many for the poor.
The House of Representatives will try to overturn Bush's veto sometime on Thursday, but the effort is not expected to succeed.
Democrats, who hold slim majorities in the House and Senate, insist they will do everything they can to avoid any government shutdowns related to the budget fight. They plan to send Bush their retooled spending plan sometime in December.
In a move to kick-start negotiations with the White House, Reid said Democrats will "bundle" several spending bills together and the total would surpass Bush's request by $11 billion, half of the $22 billion more they had been seeking.
House Speaker Nancy Pelosi was not immediately available to comment. But a Senate Democratic aide said Pelosi had been part of the discussions and supported the possible compromise.
Bush has signed into law one of the 12 spending bills for the fiscal year that began on October 1. That one funds the Defense Department's non-combat activities and weighs in at a hefty $460 billion.
But bills funding programs ranging from bridge repairs to federal law enforcement and health care for the poor and elderly are languishing as the Republican president and Democrats in Congress fight over spending priorities.
With the direct cost of the wars in Iraq and Afghanistan already topping $600 billion, Democrats have been working to bolster their domestic priorities with more money for port security, medical research, heating aid for the poor and expanded health care for veterans returning from Iraq.
(Editing by Howard Goller)