Virgin Mobile USA quarterly loss narrows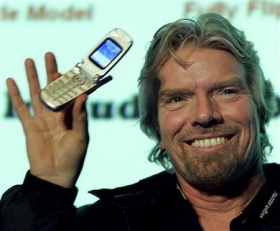 By Gina Keating
LOS ANGELES (Reuters) - Virgin Mobile USA <VM.N> on Wednesday posted a narrower fourth-quarter loss as revenue rose on the addition of new subscribers but a disappointing forecast sent its shares down 21 percent in after-hours trade.
The latest share price drop for Virgin Mobile USA, which went public in October at $15 per share, made for a contentious conference call between the company and its investors who closely questioned the lower-than-expected fiscal year forecast.
Shares of Virgin Mobile USA were trading at $3.30 in after-hours trade on Wednesday.
"No one is more frustrated by the stock prices than we are," Chief Executive Dan Schulman told analysts on Wednesday. "We strongly believe we have the right business strategy and value proposition not only to weather the (economic downturn) but to come out" with strong growth.
Virgin Mobile USA has seen its results pressured by competition from national carriers expanding into Virgin's "pay-as-you-go" space, and from the economic slowdown, which has forced consumer belt tightening.
For fiscal 2008, the company expects revenue to be flat, year over year, and for adjusted EBITDA to be between $105 million and $130 million, and for earnings to reach 19 cents to 35 cents per share.
But Wall Street was looking for fiscal year revenues to grow by 20 percent to $1.46 billion, and for EBITDA of $142.8 million and net earnings of 71 cents per share, according to Reuters Estimates.
"The company has consistently, from the IPO to today, lowered their forward expectations and I think a lot of investors are just scratching their heads wondering what has materially changed," said Stanford Group analyst Michael Nelson, who has a sell rating on the company.
DIFFICULT ECONOMY
In its second quarterly report since its initial public offering in October, Virgin Mobile USA posted a net loss of $14.7 million, or 30 cents per share, compared with a loss of $44.9 million, or $1.74 a share in the year ago quarter when it was privately held.
Before items the company said it posted a loss of 28 cents per share compared with a loss of 85 cents in the year ago quarter.
Net service revenue rose 8 percent to $293.6 million from $271 million a year earlier. Total operating revenue rose to $326.5 million from $298 million a year ago.
Analysts, on average, expected an adjusted loss of 35 cents per share, and total operating revenue of $342.4 million, according to Reuters Estimates.
In the fourth quarter, gross customer additions totaled 958,000 down from 1.29 million as a result of Virgin Mobile's decision not to engage in temporary price cuts during the holiday season.
Costs to add subscribers for the fourth quarter was $120.87, compared to $96.43 a year earlier, due in part to fewer additions in the 2007 quarter.
Churn, or average monthly turnover, for the fourth quarter declined to 5.1 percent from 5.6 percent. As of Dec 31, Virgin Mobile had about 5.1 million customers, an increase of 11 percent over the same period in 2006.
Average revenue per user for the fourth quarter was $20.14, compared with $22.16 in the year-earlier quarter, as customers cut back on usage due to difficult economic conditions, Schulman said.
Net customer additions for the first quarter were expected to be in the range of 5,000 to 20,000. Net service revenue for the first quarter were forecast at between $293 million to $303 million.
The company forecast adjusted earnings before interest, taxes, depreciation and amortization of between $22 million and $25 million, and earnings of 1 cent to 4 cents per share.
Shares of Virgin Mobile closed down 4.6 percent, or 20 cents, at $4.20 per share on the New York Stock Exchange.
(Reporting by Gina Keating, editing by Phil Berlowitz, Leslie Gevirtz)