Shopping crowds swell, but are they buying?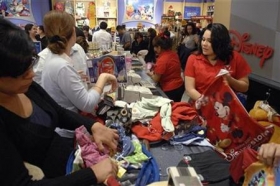 By Kyle Peterson
CHICAGO (Reuters) - Bargain-hunters mobbed retailers at the start of the holiday shopping season, but it remained to be seen whether they were in a buying mood amid a slumping housing market, a credit crunch and rising fuel costs, experts said on Saturday.
Judging by the lines outside Sears <SHLD.O> stores on "Black Friday," the first official day of the holiday shopping season, consumers were especially eager, said John Ford, regional manager at Sears Holdings in New York.
"It exceeded our expectations. We had more customers at opening yesterday than we had in prior years," Ford said of the number of people waiting outside for the stores to open on Friday. "I would tell you it was 50 to 100 percent higher than it was in previous years," he said.
Ford declined to provide sales figures or to speculate on the shopping season in general. But he was pleased with the large crowds.
Shoppers were on the lookout for giveaways and discounts, but investors were eager for any signs of consumer strength or weakness.
SHOPPING AS SPORT
Most retailers and analysts have expressed cautious outlooks for this holiday season, as consumers retreat in the face of a softening economy.
A drop in weekly mortgage applications, signs of stress in the labor market and crude oil prices flirting with $100 per barrel this week added to a gloomy outlook for retailers.
The Reuters/University of Michigan consumer confidence reading for November was 76.1, down from 80.9 in October. Apart from the short-lived dip in sentiment that followed Hurricane Katrina in 2005, it was the weakest since 1992.
"That traffic was up doesn't surprise me," said Candace Corlett, a principal with consulting firm WSL Strategic Retail. "Is that going change the financial prediction? I don't think so," she said.
Corlett said retailers throughout the nation did a good job accommodating crowds, beefing up staff to assist shoppers and posting company representatives in parking lots to help customers with credit card applications.
But the larger number of shoppers is not necessarily an indication of strong sales, she said. Bargain hunting is always popular pastime, perhaps even more so during economic uncertainty.
"It's become more of a shopping sport," Corlett said.
Black Friday also saw an increase in traffic to Internet retail sites like eBay Inc <EBAY.O> and subsidiaries Shopping.com and Paypal.
Shopping.com said on Saturday its traffic to merchants increased 61 percent over last year's Black Friday.
An increase in online shopping has somewhat defused the seasonal predictions based on Black Friday turnout to stores. The convenience of online shopping has caused an increase in shopping on Thanksgiving day itself.
Ebay said in a statement that shoppers are browsing and researching more on Friday, but buying more on the Monday after Thanksgiving, or "Cyber Monday."
(Editing by Vicki Allen)