Lowe's profit better than expected, shares rise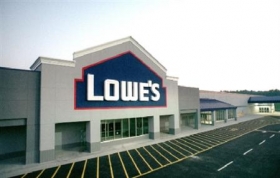 By Karen Jacobs
ATLANTA (Reuters) - Home improvement retailer Lowe's Cos <LOW.N> reported a better-than-expected quarterly profit on Monday and said it expects some headwinds facing its business to ease this year, and its shares gained 4 percent.
Still, the second-largest home improvement retailer, behind Home Depot Inc <HD.N>, forecast 2008 earnings below Wall Street estimates and scaled back its store openings for this year, citing "challenging" days to come as the slumping U.S. housing market hurts sales.
"People may be forward looking and starting to buy now in anticipation of these stocks doing well a few years out," said Zahid Siddique, an analyst with Gabelli & Co. Investors already expect the coming quarters to be weak for Lowe's and Home Depot, he added.
"As we get into 2009, things could potentially improve," Siddique said.
Earnings came to $408 million, or 28 cents a share, for the fourth quarter ended February 1, down 33 percent from $613 million, or 40 cents a share, a year earlier.
The profit was better than the 25 cents a share analysts expected on average, according to Reuters Estimates.
Sales edged down to $10.38 billion from $10.41 billion a year earlier. Analysts had expected $10.6 billion, according to the average on Reuters Estimates. Sales at stores open at least a year, or same-store sales, fell 7.6 percent.
The home improvement sector has suffered as consumers pull back on spending on home renovations in the face of falling home values, lower sales and tighter credit requirements.
Atlanta-based Home Depot is expected to report lower quarterly results on Tuesday.
"What's a little bit different is in this slowdown, you've seen a decrease in home prices," Lowe's Chairman and CEO Robert Niblock said in an interview. He added that many consumers who in the past had cashed out equity from their homes to finance improvements are no longer able to do so.
Still, Niblock said he expected effects of recent Federal Reserve rate cuts and the U.S. stimulus package to eventually promote business growth and improve housing affordability. He also said third-party data showed Lowe's was gaining market share despite competition with Home Depot.
"We would expect '09 to be better than we project in '08," Niblock said.
Lowe's, based in Mooresville, North Carolina, forecast profit of 38 cents to 42 cents a share for the current first quarter and $1.50 to $1.58 for the full year. Analysts expect 44 cents for the first quarter and $1.74 for the year, according to the averages on Reuters Estimates.
Lowe's finance chief, Robert Hull, said on a conference call that same-store sales were improving in February after an 11 percent decline in January.
Lowe's said it would open 120 stores in 2008, scaling back planned stores in hard-hit housing markets such as California. In September, Lowe's had said it would open 135 to 145 stores in North America annually from 2008 through 2010.
In the 2007 fiscal year, Lowe's opened 153 stores, including its first warehouses in Canada.
The retailer said it would also hold costs down by staffing more conservatively in the spring than in the past and pulling back on major merchandise overhauls at existing stores, although routine maintenance would continue.
"The conservative guidance marks a progression for (Lowe's) management, which had been persistently optimistic," Sanford Bernstein analyst Colin McGranahan said in a research note.
Lowe's shares rose 91 cents, or 3.9 percent, to $24.50 in afternoon New York Stock Exchange trading after earlier climbing as much as 5 percent. Home Depot gained $1.05 to $28.82, or 3.8 percent. Lowe's stock has fallen about 30 percent in the past year, while Home Depot is down 31 percent.
(Editing by Brian Moss and Braden Reddall)