Clinton Library Earns LEED Platinum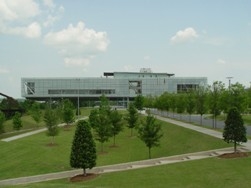 The US Green Building Council (USGBC) announced last week during Greenbuild that the William J Clinton Presidential Library has earned Platinum Certification under the LEED for Existing Buildings (LEED-EB) Rating System. President Clinton received the certification plaque from USGBC CEO Rick Fedrizzi. This certification recognizes that the Clinton Library in Little Rock, Arkansas, has implemented a continuous sustainability improvement process guided by LEED-EB. Leonardo Academy was the primary LEED consultant for this project, supporting the successful implementation of LEED-EB and advancing the Library's LEED rating from the Silver Certification earned under LEED for New Construction (LEED-NC) to the Platinum Certification earned under LEED-EB
The Clinton Library received Silver Certification under the USGBC's LEED-NC program in 2004. The goal of the LEED-EB initiative is to make the Clinton Library even greener by applying continuous improvement to building operations. Major reasons for embarking on this initiative include a sense of responsibility to "do the right thing" for the environment and a desire to provide a demonstration project that will educate and inform the public about green building. Michael Arny, President of Leonardo Academy, responded to this effort by stating, "Leonardo Academy congratulates the Clinton Library for its leadership in recognizing the importance of both green building construction and the continuous improvement of green building operations."
LEED-EB provides a framework for achieving green improvements in all existing commercial buildings. Buildings certified under the LEED-NC program can also continually improve environmental performance by seeking LEED-EB re-certification.
The LEED-EB certification process is a team effort. Participants included the two organizations responsible for the operation and maintenance of the Clinton Library and its grounds, the Clinton Foundation and the National Archives and Records Administration (NARA), represented by Debbie Shock and Steve Samford respectively. The Clinton Foundation engaged several consultants on this project, and identified Leonardo Academy to manage the process of achieving LEED Certification. The Leonardo Academy worked closely with the other team members, Rocky Mountain Institute and Powers of Arkansas, to ensure the Clinton Library met its goal of achieving Platinum Certification. In addition, all of the Clinton Library grounds, facility management, and housekeeping staff played a key role in the success of this initiative.
Key Clinton Library LEED-EB certification steps included: (1) Identifying opportunities for building and site green performance improvements (these opportunities for the most part include updating operating procedures and purchasing, and tuning up, or updating existing equipment), (2) Deciding which actions to implement, (3) Tracking all aspects of green building performance, and (4) Submitting an application to the USGBC for re-certification under LEED-EB. Continuous improvement and periodic re-certification of green operations will continue for the rest of the life of the building.Green actions in this initiative include: (1) Green cleaning (green cleaning chemicals and increased recycled content for paper products), (2) Waste reduction (increased recycling and source reduction for paper, light bulbs, aluminum, etc.), (3) Climate neutrality (all carbon emissions from energy use in 2007 and 2008 that were not addressed by additional efficiency actions and onsite renewable energy by the Library were offset with renewable energy credits). Additional actions under consideration include a green (vegetated) roof for the building and increased building efficiency of lighting, heating, and cooling systems. All actions ultimately implemented will need to be approved by both the Clinton Foundation and NARA.