Africa needs more cash to fight climate change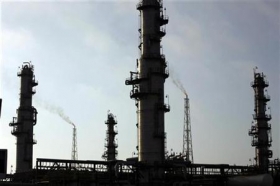 TUNIS (Reuters) - Africa must win more donor funding to help adapt to climate change and shield millions from the damage it is expected to inflict, a gathering of scientists and environmentalists said on Tuesday.
Experts say big developing countries, such as China and India, have won far more funds than Africa from rich nations to help cut greenhouse gases, for instance by investing in wind farms, hydropower dams or in cleaning up industrial emissions.
Africa is expected to be hit hardest by global warming blamed on carbon dioxide emissions from industry, transport and modern lifestyles in rich countries.
It is also the continent least ready to cope with the droughts, floods and extreme weather predicted by scientists.
A conference of scientists, researchers and regional bodies from Africa and Mediterranean countries called in a so-called Tunis Declaration for donors to make it easier for African countries to access financing for climate change preparedness.
"Governments and donors should mobilize the necessary funds for the sustainable management of natural ecosystems and agriculture," said the statement at the end of a three-day gathering billed as "A Conference of international solidarity on climate change."
"Donors are urged to ensure coordination, harmonization and simplification of the procedures applied when granting funds," conference participants, including experts from the U.N., African Union and research institutes, said in the declaration.
"It's important to increase the amounts of financial aid allocated to African countries, facilitate procedures for access to funding sources and shorten time needs for projects to be approved," they added without giving figures.
The latest report by the U.N. climate panel says that between 75 and 250 million people in Africa are projected to face increased water stress by 2020. In some African countries, it says yields from rain-fed farming could be cut by up to 50 percent by 2020.
(Reporting by Sonia Ounissi, editing by Giles Elgood)