EU Commission wants ICAO,IMO to do more on climate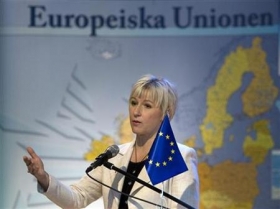 OSLO (Reuters) - The European Commission urged U.N. aviation and shipping organizations on Monday to do more to fight climate change, saying they were not helping European Union plans to extend its carbon market.
Commission Vice President Margot Wallstrom said the International Civil Aviation Organization (ICAO) and the International Maritime Organization should "develop a much more ambitious policy for climate change."
"I think they are lagging behind and they have not been very helpful if you ask me," she told an Internet news conference.
ICAO passed a resolution in September opposing an EU plan to include foreign airlines in its emissions trading system without mutual consent.
Even so, Wallstrom said she hoped that both aviation and shipping should be part of an international pact for fighting global warming beyond 2012 when the first period of the Kyoto Protocol runs out.
"The EU has already presented proposals for aviation and has started to address the issue of the shipping industry," she said.
"This has not been that easy because we had a setback with ICAO...This is a strong commitment from our side and we will follow up and I'm sure take a decision shortly on including the aviation sector in the emissions trading system."
"The shipping industry is not as easy to include," she said, noting complications such as a range of bunker fuel qualities.
-- For Reuters latest environment blogs click on:
http://blogs.reuters.com/environment/
(Editing by William Hardy)