No excuse for climate inaction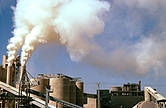 Valencia, Spain – Immediate action is essential if the world is to avert "runaway" climate change, according to the latest report by the Nobel Prize-winning Intergovernmental Panel on Climate Change (IPCC).
The IPPC's Synthesis Report — a compilation of three previous IPCC assessment reports — should send a strong signal to political leaders and governments that the reality of human-induced global warming is beyond any reasonable doubt.
"The hard fact is we have caused climate change," said Hans Verolme, Director of WWF's Global Climate Change Programme, who attended the IPCC meeting.
"The IPCC report shows that to avoid irreparable harm, nothing less than deep cuts in carbon pollution are needed. The next climate change conference will be where political leaders must act decisively."
The IPCC findings will be presented at the United Nations Climate Change Conference in Bali, Indonesia, next month, when countries launch formal negotiations on what might happen after the Kyoto Protocol's first commitment period ends in 2012.
WWF is calling on rich, industrialized countries to commit to cutting their emissions by 30% below 1990 levels by 2020, and to scale up investments in clean technologies and adaptation projects in developing countries.
"The IPCC's scientific findings show the high potential and low costs of ambitious and speedy cuts in carbon pollution, helping us avoid disastrous climate change," added Dr Stephan Singer, head of WWF's European Climate and Energy Programme.
"There is no excuse for any more delays."
END NOTES:
• In 1992, most countries joined the United Nations Framework Convention on Climate Change (UNFCCC) to fight global warming and to adapt to the inevitable temperature increases. Fifteen years later Indonesia will host the third Meeting of the Parties to the Kyoto Protocol (MOP3) in conjunction with the 13th session of the Conference of the Parties to the UNFCCC (COP13) in Bali from 3 to 14 December.
For further information:
Martin Hiller, Communications Manager
WWF International
Tel: +41 22 364 9226
E-mail: mhiller@wwfint.org