Test shows Anne Frank tree strong: conservationists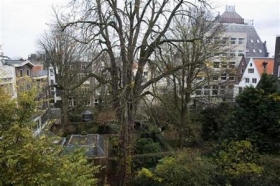 AMSTERDAM (Reuters) - The chestnut tree that Anne Frank could see as she hid from the Nazis is still strong and safe and should not be axed, conservationists opposed to plans to cut it down said on Monday.
The tree, behind the Amsterdam warehouse annex where Anne Frank hid from the Nazis until 1944, is due to be cut down on Wednesday because the city council decided it was so diseased and damaged that the risk it could topple over was too great.
City officials say that about three-quarters of the 27-tonne chestnut is unhealthy and the tree is at risk of falling down.
But the Tree Foundation, a group of tree conservationists, stepped in to stop the felling, saying the decision was too hasty and the authorities should consider ways to save the tree.
The group went to a local court last Thursday and asked for an injunction to prevent the council felling the tree. The court agreed to hold a hearing on the matter on Tuesday, a day before the planned felling.
A firm specializing in investigating trees' safety and stability carried out tests on the horse chestnut on Monday but made no immediate comment on the results.
"There is absolutely no necessity to cut the tree on Wednesday," Tree Foundation head Edwin Koot said. "It looks like it is way stronger than we had expected and that's very good news," he said.
"The most important thing now is to try and convince the judge tomorrow," Koot said.
Anne Frank described gazing longingly at the tree in the diary she kept during her two years in hiding, which became one of the world's most widely read books after publication in 1947.
The Frankfurt-born Jewish teenager and her family lived in hiding until they were betrayed and arrested in August 1944. The towering horse chestnut was one of the few examples of nature and normal life she could see.
Amsterdam resident Charles Kuijpers, 34, has put up for sale on eBay a chestnut that he says came from the tree. Bids for the chestnut have reached $2,425 in the auction, which is titled "Grow your own Anne Frank tree with a chestnut."
(Reporting by Catherine Hornby and Svebor Kranjc, editing by Tim Pearce)