Wrecked Black Sea ships start to leak sulphur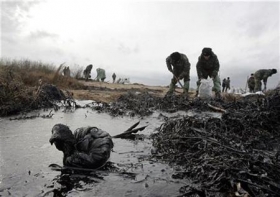 KIEV (Reuters) - Sulphur from two ships that sank in a storm near the Black Sea last week is leaking into waters already polluted by an oil spill from another vessel, UkraIne's Environment Ministry said on Monday.
Four ships sank in the Kerch Strait on the northern mouth of the Black Sea in one of the worst storms in a century. They included a Russian-registered tanker which disgorged hundreds of tons of oil, creating a environmental disaster for the area's delicate ecology.
Tens of thousands of birds, covered in heavy fuel oil and unable to fly, have been killed mostly on Russia's side of the strait. The pollution has also killed fish and even dolphins, according to environmental agencies.
Two other Russian ships were carrying several thousand tons of sulphur.
"As a result of divers' investigations of the Kovel (vessel in Ukrainian waters), it was established that the boat has a hole in the side, the lids of two holds have been torn off and sulphur is flowing into the sea," the ministry said.
It said in a statement that Russian investigators found the same had happened with the Nakhichevan, a vessel that sank in Russian waters.
The Ukrainian weather centre issued a warning on Monday of possible storms around the Crimean peninsula with winds of up to 110 kph (70 mph), similar speeds to those last week.
A group of EU environment experts arrived in Kiev on Monday. They will fly to the Kerch Strait to assess the impact of the storms and offer advice on how to handle the damage, an EU spokesman based in Kiev said.
The worst of the storm affected the Kerch Strait, which separates Russia from Ukraine and links the Sea of Azov to the Black Sea. Winds carried most of the fuel oil onto Russian shores.
Each side has threatened to seek compensation from the other.
Interfax news agency quoted the deputy head of Russia's environment watchdog Rosprirodnadzor as saying Moscow could demand compensation after a Ukrainian deputy foreign minister argued Russia should pay up for the damage done by the Russian tanker.
(Reporting by Natalya Zinets, writing by Sabina Zawadzki)