EU carbon price hits five-month high on snag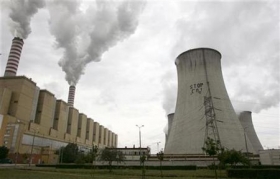 By Gerard Wynn
LONDON (Reuters) - European carbon credits hit a 5-month high on Tuesday, as the market rallied on higher natural gas and weaker coal prices, and as a trading snag raised fears of a bottleneck in supply of cheap carbon offsets.
The European Union's emissions trading scheme (ETS) will now not link with a U.N.-run Kyoto Protocol scheme until 2008, the U.N. said on Tuesday, raising fears of an EU shortage of carbon offsets imported from developing nations, under Kyoto.
The link had been expected to complete in 2007, and a shortage of offsets would raise the demand for and price of EU emission permits, called EU allowances (EUAs).
"The EU ETS will be linked to trading under the Kyoto Protocol next year," the U.N.'s climate change body said in a statement.
The European Union is testing the software system which will log carbon trades in Europe and under Kyoto, called the Community Independent Transaction Log (CITL) and the International Transaction Log (ITL).
"April 2009 is a very important date for us," said a source familiar with the situation who declined to be named, and referring to the date when European companies have to hand in enough permits to cover all their 2008 carbon emissions.
"There's a lot of participants, a lot of connections."
"The CITL and ITL are still having technical problems," said a second source who declined to be named.
EUAs for delivery in Dec 2008 were up 90 cents at 23.75 euros per ton of CO2 emissions in late afternoon trading, the highest seen since mid-June.
The EU's executive Commission recently tweaked carbon trading rules to allow EU states to trade EUAs without linking to the U.N. scheme. That has eased timing pressure to link the two schemes in advance of the start of the next trading cycle of the EU scheme, starting on January 1 2008.
EUA prices were also up on gas and coal prices.
"Switching levels looks a bit more attractive as coal's been coming off the last few days," one trader said, referring to a cooling of European coal prices, which hit record highs in late October.
Recent colder weather has pushed natural gas prices up, meaning there are fewer savings for power plants to switch to burning gas instead of the dirtier coal.
In addition, the proposed inclusion of the aviation sector into the EU carbon trading scheme was driving up EUA prices.
"We had quite a bit of bullish news last week," another trader said, referring to the EU Parliament's recommendation last week to cut the allocation of carbon permits issued to the aviation industry when they join Europe's trading scheme.
(Reporting by Gerard Wynn and Michael Szabo; Editing by William Hardy)