Invenergy to buy 800 MW of GE wind power turbines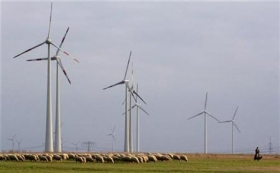 NEW YORK (Reuters) - Invenergy LLC's Invenergy Wind LLC subsidiary agreed to buy an additional 800 megawatts of wind turbines from General Electric Co for projects slated for construction in 2009 in North America and Europe.
In a release last week, Invenergy said this purchase along with previous purchases provides 2,100 MW of wind turbines for its 2007-2009 build programs.
Previously, Invenergy said it bought 600 MW for 2007 and 700 MW for 2008 from GE.
Invenergy currently has 13 wind farms with a capacity of more than 1,200 MW in operation and construction in the United States and Europe, which can produce enough energy to power about 400,000 homes.
Invenergy, of Chicago, has more than 2,000 MW of natural gas and more than 1,200 MW of wind power projects in construction or operation in North America and Europe.
(Reporting by Scott DiSavino; Editing by John Picinich)