BHP chief calls on Baosteel as Rio bid pressed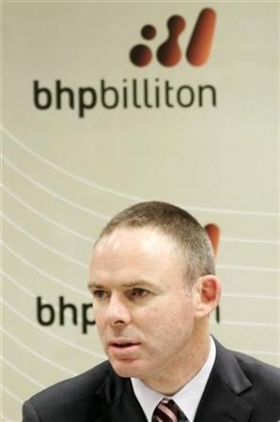 By Rujun Shen and Alfred Cang
SHANGHAI (Reuters) - The chief of BHP Billiton Ltd <BHP.AX> called on the offices of China's top steelmaker on Wednesday as BHP presses its case for a takeover of rival Rio Tinto Ltd/Plc <RIO.L> amid a mounting chorus of opposition to the merger from its customers.
Representatives at Baoshan Iron and Steel Co (Baosteel) <600019.SS>, the listed unit of China's largest steel maker, declined to comment on BHP <BLT.L> Chief Executive Marius Kloppers' discussions at Baosteel headquarters in Shanghai, and prevented reporters from approaching him for comments as he left the building.
A Beijing-based spokesman for BHP, the world's biggest mining group, also declined to comment.
A source briefed on the meetings described them as very straightforward and businesslike. He said the meetings were an opportunity for Kloppers to explain the logic of the deal and to hear Chinese reaction to it.
A state newspaper reported on Tuesday that China's steel industry, the world's largest, was deeply concerned about the merger -- which would create the world's biggest mining force, with control of huge amounts of iron ore, copper, coal, uranium, diamonds and other commodities for industrial use.
Chinese steel companies fear a merger of the two mining giants would create "an even bigger monopoly," the China Metallurgical News quoted an unnamed leader of the China Iron and Steel Association as saying.
Officials from other major Chinese steel mills, including Jiangsu Shagang Group, China's fourth-largest steelmaker by output, also met BHP officials at the Australian firm's representative office in Shanghai on Wednesday, officials at Shagang said.
Kloppers, who visited steelmakers in South Korea and Japan earlier this week, is expected to fly to Beijing on Wednesday to meet senior Chinese steel industry officials later this week.
Korean and Japanese steelmakers and Eurofer, the lobby group for the European steel industry, have also voiced strong concerns about the proposed all-share takeover -- now valued around $122 billion.
Eurofer said on Tuesday it would ask the European Commission to block the merger due to competition concerns.
BHP said on November 8 that it had approached Rio <RIO.AX>, the world's third-largest miner, with an all-share offer which Rio was quick to reject as too low.
(Writing by Charlie Zhu; Editing by Edmund Klamann)