Economic worries grow among voters: poll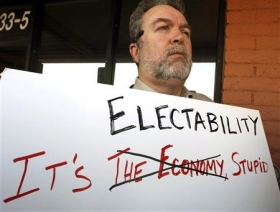 By Emily Kaiser
WASHINGTON (Reuters) - Voters are growing increasingly concerned about a recession, and the malaise is filtering into their views on the presidential election, according to a Reuters/Zogby poll released on Wednesday.
Some 47.5 percent of those surveyed think a recession is likely in the next year, up from 43.4 percent in the previous month's survey.
For the first time since the recession question was added to the monthly poll in September, more people said a recession was likely than unlikely.
The survey also found that barely more than one in five gave President George W. Bush's administration high marks for economic policy, and many voters thought they would be better off financially with a Democrat in the White House.
When asked which presidential candidate would be best for respondents' financial situation, 20.1 percent said New York Democratic Sen. Hillary Clinton, making her the top vote-getter. Some 17.5 percent were unsure, and 13.6 percent chose Illinois Sen. Barack Obama, another Democrat.
Arizona Sen. John McCain led Republicans with just 10.9 percent of the vote, followed by former Massachusetts Gov. Mitt Romney at 8 percent. Former New York City Mayor Rudy Giuliani trailed well behind with 3.8 percent of the vote.
"We're no longer waiting for the economy to be the No. 1 (election) issue. It is far and away the issue," pollster John Zogby said. "Democrats have a very simple message on the economy: It stinks. It's Bush's fault. A Republican can't say that."
Many economists think the U.S. economy is in or near a recession as the housing market downturn, tightening credit conditions, and steep food and energy costs drag down consumer and corporate spending.
Economic research shows that the incumbent party typically loses the presidential election when the economy slips into recession during an election year.
January's survey of 1,006 likely voters was conducted January 10-11, about a week after a government report showed the unemployment rate spiked to 5 percent in December, the highest in two years.
That report increased fears of an imminent recession, and helped drive U.S. stocks down sharply. Stock markets got off to their worst-ever start this year, which may have contributed to the darkening economic mood among voters.
Americans also grew a bit more pessimistic about the housing market, with just 27.4 percent expecting house prices in their area to rise in the next year. That was down from 30.8 percent a month earlier. Four in 10 think prices will fall, up from 37.4 percent in December's survey.
The national poll had a margin of error of plus or minus 3.1 percentage points.
(Editing by Jan Paschal)