Congo creates bonobo ape reserve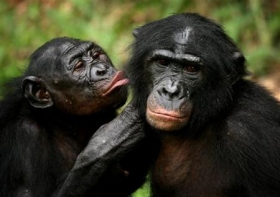 By Joe Bavier
KINSHASA (Reuters) - Democratic Republic of Congo has founded a 30,000 square km (12,000 square mile) nature reserve to protect the bonobo, a great ape that is man's closest relative, the country's environment minister said on Wednesday.
The Sankuru Nature Reserve, carved out of rainforest in the vast central African nation's Eastern Kasai province, was established by ministerial decree earlier this month.
Its location in the heart of the Congo River Basin, the sole habitat of the bonobo, which shares 98.4 percent of humans' genetic make-up, is also home to the giraffe-like okapi and highly endangered forest elephant.
The reserve straddles the sources of three tributaries feeding into the Congo River.
"The Congo Basin begins there. There is astonishing biodiversity, and the reserve has a strategic importance for Democratic Republic of Congo," Environment Minister Didace Pembe told Reuters.
More than 10 percent of Congo, a country the size of Western Europe, has been given protected status. A regional initiative is currently aiming to convert 15 percent of Central Africa into nature reserves.
Bonobos, unlike other related apes, live in unique matriarchal social groups. They are noted for their intelligence and peaceful nature. Conflicts within bonobo groups are rare, with disputes largely resolved through sex.
They have seen their numbers greatly reduced in recent years due largely to poaching and habitat destruction, much of which was linked to the 1998-2003 war that ravaged natural resources and killed an estimated 4 million people.
Surveys are difficult to carry out in many isolated areas of Congo and estimates of the bonobos' current population in the wild range from 5,000 to 50,000, according to the U.S.-based Bonobo Conservation Initiative.
"This is a monumental step towards saving a significant portion of the world's second largest rainforest, of critical importance to the survival not only of humankind's closest great ape relative ... but to all life on earth, given the increasing threat of climate change," the organization's president Sally Jewell Cox, said in a statement.
Pembe said he hopes the creation of the new reserve will serve as a key development tool for Eastern Kasai.
"This is a province which is extremely isolated. We are hoping that ecotourism, among other initiatives, will allow the population to prosper," he said.
(Editing by Giles Elgood)