Circuit City asks ex-workers to return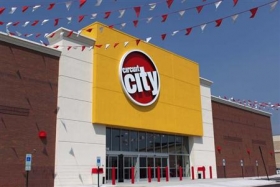 ATLANTA (Reuters) - Circuit City Stores Inc <CC.N> has asked former employees, including some staffers replaced by lower-paid workers earlier this year, to apply for new jobs as the electronics retailer tries to turn its business around.
The company's shares sank as much as 7 percent to four-year lows on Wednesday after J.P. Morgan downgraded the stock to "neutral" from "overweight," saying a rebound at the company would likely require the involvement of a strategic partner or a takeover.
Spokesman Bill Cimino said on Wednesday that Circuit City invited former U.S. workers to apply for jobs, a practice he said was not uncommon in retail, given the typically high turnover.
Cimino said the retailer had reached out to many former workers, including some who were let go earlier this year. He added that Circuit City would likely invite more ex-staffers to return next year.
"In a lot of cases, we've completely changed how our stores operate; the roles of our associates within the stores," Cimino told Reuters. "We've got a better career path now for associates."
Circuit City, based in Richmond, Virginia, has cut costs this year as it struggled with weak sales amid heated competition from chief rival Best Buy Co Inc <BBY.N> and mass retailers such as Wal-Mart Stores Inc <WMT.N>. It reported a wider-than-expected second-quarter loss in September and forecast a loss for the current year.
In March, Circuit City let go more than 3,000 workers and replaced them with lower-paid staff, a move criticized by analysts who said the loss of the more-experienced employees hurt sales of items such as extended warranties.
Circuit City's "execution remains a significant concern," Sanford Bernstein analyst said in a research note on Wednesday.
Cimino said Circuit City's changes include the creation of a supervisor position for stores and the elimination of shelf- stocking duties for sales associates to give them more time with customers.
The moves have "improved the associate morale in the stores," Cimino said. "We're getting feedback from our customers that they are having a better experience in the stores."
In the note downgrading Circuit City, J.P. Morgan analyst Stephen Chick cited "going-concern value with many of its issues leftover from legacy management decisions." He added that a recovery likely "requires deep pockets."
Circuit City shares were off 36 cents, or 6.2 percent, at $5.41 in midday trading on the New York Stock Exchange, a 52- week low and four-year low. The stock last closed at those levels in March-April 2003.
(Reporting by Karen Jacobs; editing by Andre Grenon)