CDC report shows upswing in exercise by adults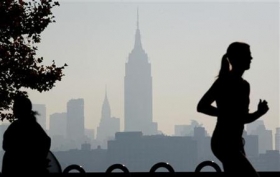 By Will Dunham
WASHINGTON (Reuters) - More Americans are getting up off the sofa and exercising, but a lot more progress is needed to persuade millions of slackers to start sweating a bit, U.S. health officials said on Wednesday.
In 2005, 46.7 percent of U.S. women and 49.7 percent of U.S. men engaged in regular exercise on a weekly basis, according to a report from the Centers for Disease Control and Prevention based on a survey of 356,112 adults nationwide.
That represents an 8.6 percent increase in the rate among women and a 3.5 percent rise among men from a similar survey in 2001. Blacks continued to lag whites but made some strides.
The CDC said 33 percent of U.S. adults are classified as obese, compared to 15 percent in the 1970s. Obesity, attributed in part to people getting too little exercise and eating too much of the wrong foods, has become a rising problem in the United States and worldwide, contributing to chronic diseases.
"The positive picture is that American adults are increasing their regular physical activity," said Isa Miles, a CDC epidemiologist who contributed to the report.
"However, about half of adults do not engage in regular levels of physical activity. And we still see racial and educational disparities. So more effort is really needed to increase physical activity for all adults and to reduce those disparities," Miles said in an interview.
The CDC defined regular, leisure-time physical activity as 30 minutes of moderate-intensity exercise like brisk walking five or more days a week, or at least 20 minutes of vigorous exercise like running or aerobics at least three days a week.
Dr. William Haskell of Stanford University in California, who studies the medical benefits of exercise, said regular physical activity cuts the risk of developing the most common form of diabetes, obesity, heart disease, high blood pressure, certain cancers and osteoporosis.
"This report is showing progress. That's better than going the other way," Haskell said in a telephone interview. "But it still indicates that, given the obesity and diabetes epidemics we have, we're still a long way from where we need to be."
In 2005, 36.1 percent of black women engaged in regular exercise, up 15 percent from 2001, and 45.3 percent of black men did so, up 12.4 percent from 2001, according to the CDC.
Among Hispanics, women increased their regular exercise while men did not. The CDC said 40.5 percent of Hispanic women met the exercise objectives -- up 11.6 percent from four years earlier -- while Hispanic men fell slightly to 41.9 percent.
Education levels also played a big role in people's willingness to get out and sweat, with college graduates far more likely to get regular exercise than people who did not graduate from high school, the CDC said.
The regularity of exercise also declined with age. For example, 62 percent of men and 52.7 percent of women ages 18 to 24 got regular exercise, compared to 44.5 percent of men and 36.3 percent of women age 65 and up.
(Editing by Maggie Fox and Mohammad Zargham)