China tells officials not to buy gas-guzzlers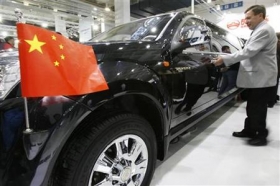 BEIJING (Reuters) - China has asked government officials to abstain from using four-wheel drive vehicles and other gas-guzzling cars to lower emissions and protect the environment, state media reported on Thursday.
China has pledged to cut emissions and energy consumption amidst growing domestic and international concern that the country's rapid industrialization has placed an unbearable strain on the environment.
"Government-issued cars should set an example," the official People's Daily newspaper quoted a notice from State Council administrative organs as saying.
The notice urged officials to take public transport on official business, and "put cars away for safe-keeping" during national holidays.
It reminded them that hiring out government cars for profit was illegal.
It also placed a freezing order on existing departments commissioning new cars, to lower the number of vehicles on the government pay-roll and clear out a back-log of cars in violation of standards.
The order instructed officials to organize training and "fuel conservation competitions" with the goal of lowering fuel consumption by 20 percent in 2008.
Fearful that environmental degradation will prove an obstacle for future growth China has pledged to cut emissions of acid-rain causing sulfur dioxide emissions and chemical oxygen demand -- a measure of water pollution -- by 10 percent between 2006 and 2010, but last year failed to meet the annual target.