Palm oil industry moves closer to "green" labeling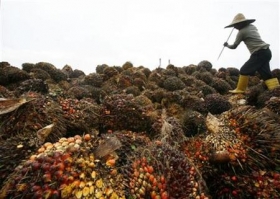 Corrects paragraph 3 in story from Nov. 22 to make clear Friends of the Earth is not a member of the roundtable and
clarifies its role in the roundtable in paragraph 5.
KUALA LUMPUR (Reuters) - A certification process, which enables palm oil producers meeting stringent environment standards to label their products as eco-friendly, was launched on Thursday.
Palm oil companies that meet the criteria set by an industry-led initiative, the Round Table on Sustainable Palm Oil, will be able to market their certified "green products" in global markets.
"It has been launched and we hope by the first quarter of 2008, we should be seeing some sustainable palm oil," said Teoh Cheng Hai, secretary general of the roundtable, which groups producers, consumers and environmentalists such as WWF.
The rapidly expanding palm oil industry in Southeast Asia has come under fire from green groups for destroying rainforests and wildlife.
An environmental group has even threatened to withdraw its support from the certification process, accusing Malaysia and Indonesia of cynically exploiting the initiative. Though not a member of the roundtable, Friends of the Earth has encouraged UK firms to join the roundtable, according to its Web site.
Friends of the Earth said the two nations appeared to be using the program as an excuse not to legislate to protect rainforests from the rapid expansion of palm-oil estates.
The criteria include commitments to preserve rainforests and wildlife, avoid conflicts with indigenous people and improve palm oil yields.
Malaysia and Indonesia, home to more than 4 percent of the world's rainforests, produce nearly 85 percent of total palm oil.
Both nations already have laws to protect tracts of rainforests against illegal logging, but green groups say penalties should be stiffened and that more rainforests should be locked away. They also say existing laws are not properly enforced.
Malaysian commodities minister, who launched the certification process in Kuala Lumpur, accused the environment groups of harming palm oil's image.
"These groups demand a moratorium on oil palm development. Unfortunately, many of these arguments are often driven by emotions rather than facts," he said.
"Using these arguments, they often managed to pressure the rest of the supply chain towards giving support through the adoption of negative policies, as being the case with some major retailers in the United Kingdom."
(Reporting by Naveen Thukral; Editing by Ben Tan)