UK biofuels push lacks greenhouse targets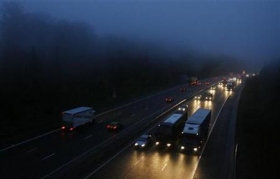 LONDON (Reuters) - A government directive requiring fuel suppliers to use more biofuels will do little to combat climate change because the measure lacks targets to reduce greenhouse gas emissions, British scientists said on Monday.
In a report focusing on the British directive set to take effect in April 2008, the Royal Society said biofuels should play an important role in cutting greenhouse gas emissions linked to global warming.
The Renewable Transport Fuel Obligation requires transport fuel suppliers to ensure that 5 percent of all fuels come from a renewable resource by 2012. The requirement is part of a wider European Union biofuels directive.
"The government must ensure that the (requirement) promotes fuels with the lowest emissions by, for example, setting a greenhouse gas reduction target," John Pickett, who led the Royal Society's biofuels study.
"Without a target we risk missing opportunities to stimulate exciting innovations that will help us cut our spiraling transport emissions."
Biofuels, mainly produced from agricultural crops such as maize, sugarcane and vegetable oils, are seen by many as a way to cut emission of greenhouse gases and to boost energy security at a time when oil output may be at or near its peak.
The British report said both the EU and the government's requirements would do more to boost economic development and create energy security than fight climate change.
It also urged the government to extend the fuel transport requirement for 20 years in order to stimulate long-term investment to nurture a strong British biofuels industry.
"In designing policies and incentives to encourage investment in and the use of biofuels, it is important to remember that one biofuel is not the same as another," Pickett said.
"Indiscriminately increasing the amount of biofuels we are using may not automatically lead to the best reduction in emissions."
(Reporting by Michael Kahn; editing by Chris Johnson)