Favre fires Packers, Cowboys and Colts post crushing wins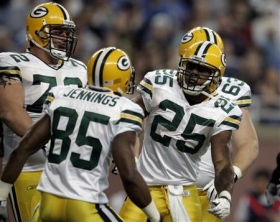 DETROIT (Reuters) - Brett Favre threw three touchdown passes to lift the Green Bay Packers to a 37-26 win over the Detroit Lions in a Thanksgiving Day matinee on Thursday.
The Packers improved to 10-1 and moved closer to clinching the NFC North division crown while the Lions slipped to 6-5 following their third consecutive defeat.
The Dallas Cowboys also improved to 10-1 with a 34-3 rout of the New York Jets in Irving, Texas, and the Indianapolis Colts are now 9-2 after a 31-13 thumping of the Falcons in Atlanta.
In Detroit, Favre tossed three touchdown passes in a game for the 63rd time, surpassing the record set by Dan Marino.
The three-times MVP completed 31-of-41 attempts, including a personal best and franchise record 20 consecutive completions, for 381 yards.
"I wasn't with him in his MVP years, but it's impressive the way he's playing right now," Green Bay coach Mike McCarthy told Packers.com.
It marked the seventh time this season the 38-year-old future Hall of Famer has thrown for more than 300 yards in a game.
After a spluttering start, the Packers' high-powered attack slipped into top gear to score 30 points or more for the fourth straight game and extend their unbeaten streak to six games.
"If you're completing passes, you're giving those guys a chance to score, and today was about the best example I can give you as far as dumping it off and letting them make plays," Favre said.
"One week it's down-the-field throws, the other week it's short, efficient passes. Teams aren't really doing anything crazy to us defensively. It's coming down to execution, and today I thought we executed extremely well."
TOTAL OFFENSE
After manufacturing just 17 yards total offense in the opening quarter and falling behind 6-0, the Packers came to life in the second by scoring 17 points.
Packers safety Aaron Rouse sparked the rally when he intercepted Jon Kitna and returned the ball to the Lions 11, where Favre threaded a touchdown strike to Greg Jennings.
Favre marched his team 80 yards for another score, Ryan Grant powering over from the five and the teams traded field goals to make it 17-9 to Green Bay at the half.
Green Bay extended the lead to 34-12 but the Lions brought the 63,000 crowd to life with fourth-quarter touchdowns from Calvin Johnson and Kevin Jones.
*Tony Romo threw two touchdown passes to lead the Cowboys to a 34-3 pounding of the Jets. Dallas is 10-1 for the first time in its 48-year franchise history, as Marion Barber rushed for 103 yards and a touchdown against woeful New York (2-9).
*Peyton Manning threw for 272 yards and three touchdowns to lead the Colts to 31-13 win over the Falcons. Atlanta (3-8) led 10-0 after the first quarter but the Colts scored 21 second quarter points to take control.
(Writing by Roger Lajoie, Editing by Ed Osmond)