Astronauts finish station work for European lab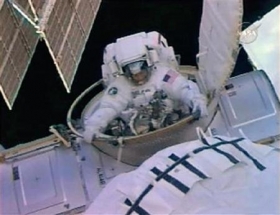 By Erwin Seba
HOUSTON (Reuters) - Astronauts spent seven hours in space on Saturday to finish preparing the International Space Station for its next addition -- Europe's first permanent space laboratory.
Station commander Peggy Whitson and flight engineer Dan Tani kept the orbital outpost on schedule to meet NASA's ambitious goal of completing construction by 2010, when the U.S. space shuttle fleet is due to retire.
The Columbus laboratory sits in the cargo bay of space shuttle Atlantis, which is on a Florida launch pad and set to lift off on December 6.
Tethered to the station, Whitson and Tani spent much of their time passing the second of two 300-pound (136-kg), 18.5-foot (5.6-metre) pallets "like a high-tech baton in a relay race" to its new position, a spokesman for the U.S. space agency said.
The pallet routes coolant lines to the station's Harmony module to which the Columbus lab will be connected in December. Japan's Kibo Experiments Module is set to be attached to Harmony in February.
Saturday's excursion 215 miles above Earth was the second spacewalk this week to connect Harmony to electrical, cooling and data systems aboard the station. Whitson and Tani relayed the first pallet into position on Tuesday.
Ground controllers told Whitson and Tani coolant was flowing into Harmony about an hour after they completed the connections.
"We couldn't be more pleased to have a good install(ation) of Harmony," Tani said.
Tani and Whitson also carried out an inspection of a balky rotating joint that turns one of the 240-foot (73-metre) solar power wings on the station for best alignment with the sun.
Earlier this month, astronauts found what appeared to be metal filings in the joint that was preventing it from operating efficiently.
Tani said he saw some damage to parts of the joint and took pictures for NASA engineers to study.
"It sure looks like metal-to-metal damage," he said.
Cosmonaut Yuri Malenchenko, who remained inside the station while Whitson and Tani worked outside, may join Whitson in a spacewalk to repair the joint for the solar power wing after Atlantis shows up next month.
(Editing by Xavier Briand)