Crews gain upper hand on Malibu fire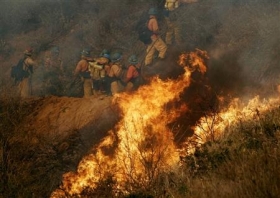 By Dana Ford
MALIBU, California (Reuters) - Firefighters gained the upper hand on Sunday against a fierce wildfire that destroyed 49 homes in the exclusive beachside community of Malibu, where residents were allowed to return and assess the damage.
The fire, which officials said was the worst to strike Malibu in 15 years, was the second there in just over a month. It had lost much of its power with dying Santa Ana winds and was 40 percent contained by Sunday afternoon.
The flames no longer threatened homes in the enclave hugging the Pacific Ocean and some firefighters and air support personnel were sent home, though officials said it was too early to declare victory.
"I could say we're in the clear, but anything could happen, said Los Angeles County Fire Capt. Mike Brown.
The blaze erupted early on Saturday, charred 4,720 acres
and forced more than 10,000 people to evacuate the community, popular with many of Hollywood's biggest stars.
Investigators believe the fire was started by people and called its origins suspicious.
As of Sunday morning, 51 structures had been destroyed including the 49 homes, many of them multimillion-dollar, ranch-style mansions in the canyons of central Malibu. Among them was the home belonging to Flea, bass player for the rock band the Red Hot Chili Peppers.
Many evacuees were allowed to return on Sunday, some finding their property untouched by the flames and others discovering nothing but charred rubble.
'I HAVE NOTHING'
Debbie Sinding, 40, saw her home burned to the ground and three pets killed in the fire. She intended to pick through the blackened debris for her wedding ring.
"It just came in on all sides. It was unstoppable. You just never think its going to happen to you," a tearful Sinding said. "I don't have any form of ID. I don't have a credit card. I have nothing."
State officials this week pre-positioned hundreds of firefighters, aircraft and supporting fire gear across Southern California after forecasters predicted optimal fire conditions this weekend, fueled by Santa Ana winds that by early Saturday gusted up to 60 mph (96 kph).
The blaze spread rapidly on Saturday, but a quick response by firefighters saved many homes, one fire inspector said.
"If we had not had the pre-deployed firefighters, we could have lost a lot more homes than we did," said Los Angeles County Fire's Sam Padilla.
Dry, brush-covered mountains descend to the ocean in Malibu, creating a spectacular but precarious place to live. Mansions line the beaches and canyons that snake up into the famously fire-prone hills.
More than 1,700 firefighters, 15 helicopters and 12 fixed-wing aircraft were mobilized. Six firefighters suffered minor injuries and some were taken to hospital, Los Angeles County Fire Inspector Ron Haralson said.
Fire officials had been bracing after devastating brush fires last month swept the dry hills of Southern California from Santa Barbara south to San Diego.
Across the region in October, at least a dozen people died, more than 1,500 homes were destroyed and 250,000 residents fled during the blazes, the largest evacuation in California's recent history.
(Additional reporting by Dan Whitcomb, editing by Alan Elsner)