Rare tiger cub born in South Africa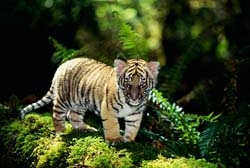 JOHANNESBURG (Reuters) - A male South China tiger cub was born in the Free State province of South Africa on Friday, the first time the animal has been born outside China, the Save China's Tigers organization said on Sunday.
The cub was born healthy and larger than normal at 1.2 kilograms on a wildlife conservation reserve, the group said in a statement. The cub was being hand-reared and would be taught to hunt for itself.
"It is truly a historic event, because it is the first time that a South China Tiger has been born outside of China. Only around 60 South China Tigers exist in captivity and less than 30 survive in the wild," Li Quan, founder of the organization, said in a statement sent to Reuters.
In the early 1950s an estimated 4,000 of the tiger subspecies, one of the world's smallest and the only one native to central and southern China, roamed the country, but its habitat has been squeezed by the country's rapid economic growth.
(Reporting by Phumza Macanda)