Airbus sees order slowdown after peak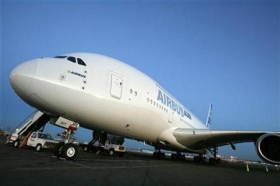 By Daryl Loo
SINGAPORE (Reuters) - Airbus said on Wednesday it expects the market for aircraft to cool and new orders to halve to 700 this year after years of strong demand from airlines took its order book to a record 3,600 planes.
Toulouse-based Airbus, owned by European aerospace group EADS <EAD.PA>, received orders for 1,341 aircraft in 2007, but fell behind U.S. rival Boeing <BA.N>, which had 1,413.
"The years 2005, 2006 and 2007 were the peak years in terms of orders and we now are ramping up production, as is Boeing. We would see 2010, 2011 and 2012 as peak years in terms of production," Airbus chief salesman John Leahy told a news conference at the Singapore Airshow.
The record order book means Airbus has sold out for the next five years, Leahy said, adding the market was now "cooling down a little bit."
The company expects over 100 orders for its new A350 XWB widebody plane this year, adding to the order book of 310 planes from 15 customers.
Leahy said he expected 30 orders for the A380 superjumbo this year, including the three confirmed this week from Korean Air Lines <003490.KS> and the five ordered in 2003.
"Many of these orders are coming from the booming Asian market in particular," Chief Executive Tom Enders told reporters, adding Asia will account for the bulk of future orders as regional travel is forecast to grow by more than 6 percent, compared with 5 percent globally.
"In the next 20 years, we expect roughly 40 percent of the twin aisles such as the A350 XWB family (and) 56 percent of large aircraft like the A380 to be concentrated in the Asia Pacific region," Enders said.
NO DELAY
Airbus said it was carefully studying delays for Boeing's B787 Dreamliner, delivery of which has been repeatedly postponed, but does not foresee the same problem with its new aircraft, which competes directly with the 787.
"There is absolutely no delay on the A350. We have learnt the lessons from the A380 delays, and also from the 787," Leahy said.
He added Airbus has not benefited from the 787 delays as the A350 is not due for delivery until the middle of the next decade.
Boeing faces growing anger from its biggest customers for delays in the Dreamliner, but still unveiled more than $6 billion in orders for other planes at the Singapore Airshow on Tuesday.
The first 787 is now due for delivery early next year after a delay of nine months, and customers such as Qantas <QAN.AX> and AIG <AIG.N> unit International Lease Finance Corp (ILFC) plan to seek massive compensation.
Airbus said there are also no signs that customers are having trouble from the ongoing credit crisis in financing their aircraft purchases.
"The subprime crisis hasn't quite hit the aviation market yet, and we're not sure it will. We're watching it very carefully, but we're still seeing a lot of financing available for aircraft," said Leahy.
Airbus also dismissed as a "minor hiccup" an incident involving the first A380, delivered to Singapore Airlines <SIAL.SI> last October.
Singapore Air cancelled an Airbus A380 flight on Monday due to a fuel pump defect, which was the second mishap involving the world's largest passenger jet in two months.
"It's true we have from time to time a bit of a glitch. We call that teething problems, and it's not unknown for aircraft that are freshly introduced into service," Enders said.
(Additional reporting by Jan Dahinten and Ovais Subhani, Editing by Ian Geoghegan and Jennifer Tan)