Retailers go from in-store to online holiday push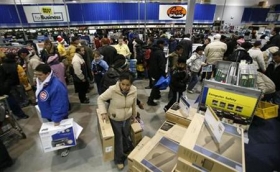 By Nicole Maestri
NEW YORK (Reuters) - U.S. retailers, which pulled out all the stops for the Thanksgiving shopping weekend, are now trying to lure shoppers online to spend more of their holiday dollars.
Wal-Mart Stores Inc <WMT.N>, Best Buy Co Inc <BBY.N>, Sears <SHLD.O> and Staples <SPLS.O> have posted special deals on their Web sites, hoping consumers will jump from in-store shopping to online buying.
The discounts are part of what is termed "Cyber Monday" by retailer network Shop.org. It is meant to mark the start of the online holiday shopping season, when consumers log on at work to search for gifts they did not find over the Thanksgiving weekend.
But "Cyber Monday" is typically not the biggest online shopping day of the season, and this year, retailers did not wait until after Thanksgiving to make a cyber push.
Retailers began posting online discounts Thanksgiving day, and some so-called "Cyber Monday" sales started on Sunday or will extend until Friday.
Walmart.com is offering special prices online for 150 items this week -- three times more than a year ago -- posting roughly 65 discounts on Monday and then adding new deals to the site daily through Friday.
Best Buy began "Cyber Monday" deals on Sunday and will offer special prices through Monday.
The deals come as retailers are worried that shoppers, squeezed by the slowing U.S. housing market, higher food and fuel costs, and the credit market crunch have cut their holiday spending plans, and that worry may have been affirmed over the Thanksgiving shopping weekend.
While deep discounts and extended hours drew more than 147 million shoppers to U.S. stores, average consumer spending fell, according to a National Retail Federation survey that included data from Thursday to Saturday and projections for Sunday.
The survey found that customers spent an average of $347.44, down 3.5 percent from $360.15 last year.
That has retailers relying heavily on their Web sites to offer special deals or advertise their holiday discounts.
According to a Shop.org/Shopzilla eHoliday Survey, 72.2 percent of online retailers are planning a special promotion for Monday, up from 42.7 percent two years ago.
Promotions will range from specific deals, to one-day sales, to free shipping on all purchases, the survey found.
Walmart.com said it saw a surge in online traffic on Thanksgiving day, attracting roughly 10 million visitors -- a significant jump from its typical traffic of 2 million daily visits during other times of the year.
Walmart.com said sales were up more than 40 percent on Thanksgiving, compared with a year ago.
The retailer expects 7 million visits to its Web site on Monday.
(Editing by Steve Orlofsky)