Politics rescued Airbus deal with China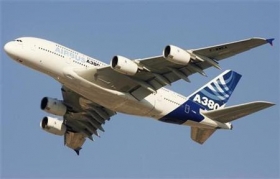 PARIS (Reuters) - Airbus clinched agreement to sell 160 planes to China on Monday only after high-level political intervention rescued Beijing talks that had become stuck on a Chinese offer to buy just 30 jets, French officials said.
A sale of 30 planes -- one fifth the number sold by his predecessor Jacques Chirac -- would have been seen as a flop during a state visit to China by French President Nicolas Sarkozy, who instead was credited with one of Airbus's biggest deals.
"A dinner, a meeting and a lunch," an official close to Sarkozy said, explaining how the deal was put back on track.
The talks involved political input and went beyond the commercial reasoning of European planemaker Airbus, he said.
Sarkozy and Chinese President Hu Jintao looked on as Airbus and China's state buying agency signed a "framework" deal that could lead to an order for Airbus jets worth $16.7 billion.
The framework deal covered 150 planes, while a separate deal involved a further 10 Airbus A330-200s for airline China Southern <1055.HK> <600029.SS>.
Sarkozy earlier thanked Hu in public for his "personal involvement" in securing major contract wins for French firms during his visit.
Aides said French companies had won 20 billion euros ($29.72 billion) of business, a record for a state visit from France.
The main headline figure on the planes agreement is a sensitive matter to both China and visiting leaders who vie to oversee the best export deals.
China has twice bought 150 planes from Airbus or Boeing to mark similar visits by former French President Jacques Chirac, a bitter rival to Sarkozy, and U.S. President George W. Bush.
Airbus is owned by European firm EADS <EAD.PA> but based in France. Its main competitor is U.S. planemaker Boeing Co <BA.N>.
China has until now been careful to split purchases evenly between the two industrial giants, whose fortunes are often linked to the status of national economic interests in China.
Framework deals are put together by state buying agency CASGC and only become firm when allotted to individual airlines.
EADS Chief Executive Louis Gallois said the main provisional order was expected to result in firm entries on the Airbus order book before the end of the year.
The China Southern deal is already firm, meaning Airbus has received a deposit.
(Reporting by Tim Hepher, Emmanuel Jarry; Editing by Jason Neely)