Brazil urges rich nations to curb climate change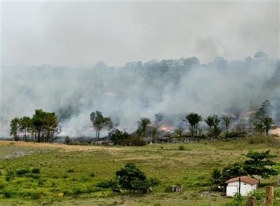 BRASILIA (Reuters) - Brazilian President Luiz Inacio Lula da Silva urged rich countries on Tuesday to pay to help curb climate change by protecting tropical forests and reiterated criticism of the United States for its import duties on biofuels.
Lula's message came ahead of next week's United Nations climate change conference in Bali, Indonesia, which the world body hopes will lead to negotiations on a new global pact to reduce carbon emissions blamed for global warming.
"The rich countries need to know that in Bali we will discuss in depth the price they must pay so the poorest countries can protect their forests," Lula said during the launch of the United Nations Report on Human Development in the capital Brasilia.
"You are not going to convince the poor anywhere in the world not to cut a tree without the right to a job and food in exchange," the former union leader added.
Brazil, a major developing world trading power with an increasing influence on environmental issues, is a pioneer in producing and using low-emissions ethanol derived from sugar cane and 85 percent of its power generation comes from renewable energy sources.
But its is one of the world's largest carbon gas emitters, due largely to the destruction of the Amazon rain forest. Tropical forests like the Amazon release stored carbon dioxide when trees are burnt or decompose.
Brazil has proposed "positive incentives" financed by rich countries to help protect forests in developing nations. It also wants an international convention to force pharmaceutical companies to pay for drugs derived from plants found in rainforests.
"We are not prepared to be treated as second-class citizens in this debate," Lula said.
Lula also criticized the United States for subsidizing less efficient ethanol derived from corn, while charging duties on imported ethanol made from sugarcane.
"Where is the trade equality, where is the will to clean the planet? ... They could start taxing oil," Lula said.
The former factory workers also ridiculed gas-guzzling vehicles used in developed countries.
"There are cars in parts of the world that are so big they can't turn a corner, with one of those you could make three common cars here in Brazil."
(Reporting by Raymond Colitt; Editing by Stuart Grudgings)