Wild birds not ruled out as UK bird flu source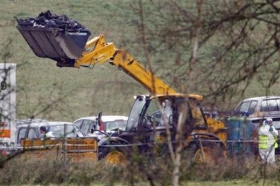 LONDON (Reuters) - Wild birds cannot be ruled out as the source of an outbreak of deadly H5N1 bird flu in England, although no evidence they are contaminated has been found, the farm ministry said on Thursday.
It also said no evidence had been found so far that infected poultry or poultry products may have been the cause.
"It has not been possible, at this stage, to categorically identify the source of the outbreak," the ministry said in an initial epidemiology report.
"Wild birds cannot be ruled out as a source of infection."
Britain confirmed on November 13 an outbreak of H5N1 bird flu at a poultry farm near Diss, Norfolk in eastern England. The strain was closely related to those found in the Czech Republic and Germany during the summer.
"There is no evidence of H5N1 infection in the local wild bird population or in Britain as a whole but the continued surveillance may help clarify the infection status of the wild bird population," the farm ministry said.
The virulent H5N1 strain has killed more than 200 people worldwide since 2003 and millions of birds had either died from it or been killed to prevent its spread.
(Reporting by Nigel Hunt; Editing by Michael Roddy)