Bomb kills 6 in Pakistani school on Afghan border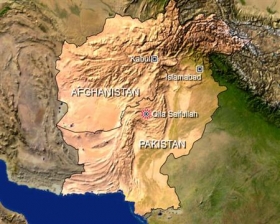 CHAMAN, Pakistan (Reuters) - A bomb exploded in an Islamic school in a Pakistani town on the Afghan border on Monday killing six people and wounding four, officials said.
The explosives were placed in the bag of a student at the religious school, or madrasa, in the southwestern town of Qila Saifullah in Baluchistan province, officials said.
"The bag was placed in a student dormitory," said provincial police official Mohammad Asif said.
An intelligence official in the town said the man who left the bag had returned to the madrasa from Afghanistan earlier on Monday. He left the madrasa before the explosion, the official said.
The madrasa's principal had been taken into custody for interrogation, Asif said.
Thousands of madrasas sprang up along the Afghan border in the 1980s, many supported by the government which backed Afghan opposition guerrillas fighting Soviet forces occupying Afghanistan.
The madrasas produced many recruits for the guerrilla forces fighting a jihad, or holy war, in Afghanistan.
The government of President Pervez Musharraf vowed to bring the madrasas under control as part of efforts against militancy after Pakistan allied itself with the Untied States following the September 11, 2001, attacks.
But critics say little has been done to tackle the militancy that some madrasa promote. Afghan officials say some of the suicide bombers responsible for a wave of attacks there have come from Pakistani madrasas.
(Reporting by Saeed Ali Achakzai and Gul Yousafzai)